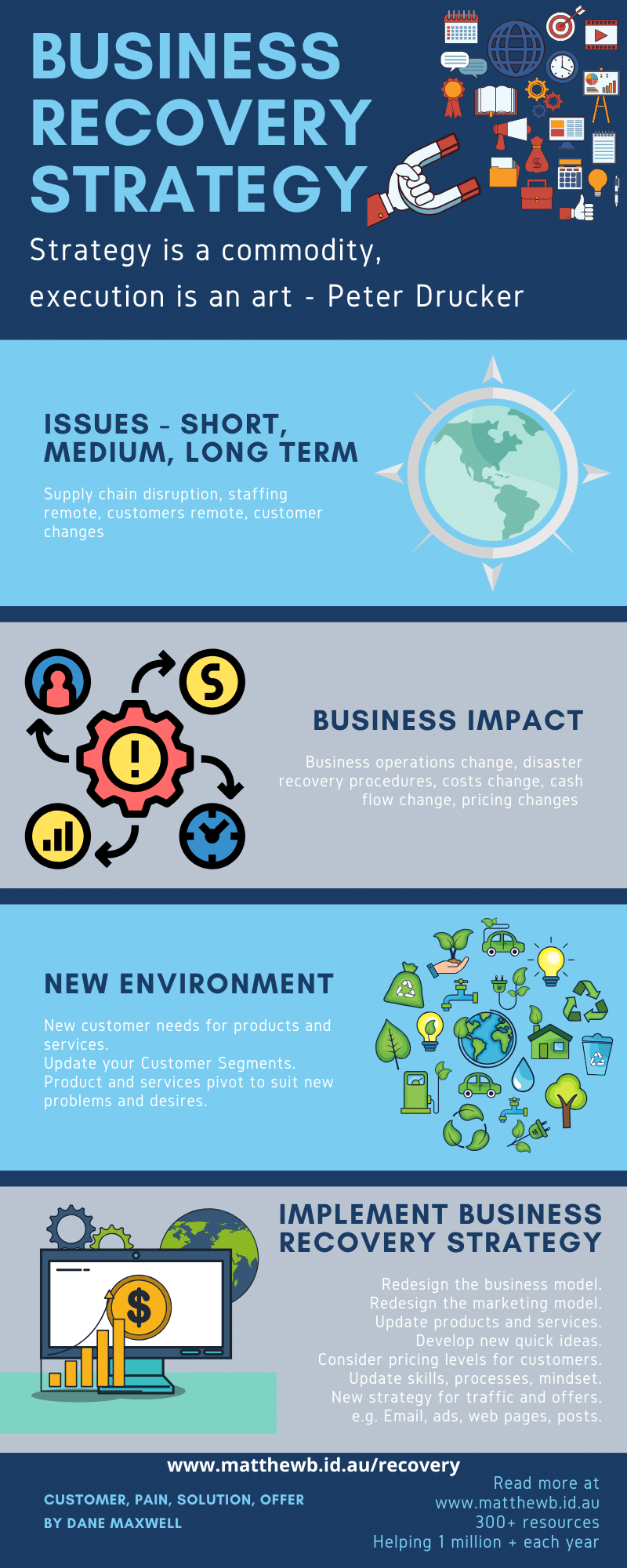 Business Recovery Strategy
Business Issues, Impact, Environment and Strategy Implementation
Stage
Description
Do it yourself tools
Done for you service
Issues -
Short, Medium, Long Term
Supply chain disruption
Staffing remote
Customers remote
Customer changes
74 Internet Uses
Business Skills Analysis
Video Conferencing Example

Business Model your Current and Future business state.
Review your Business Technology Alignment for digital processes.
Extract your baseline online key performance indicators.
Business Impact
Business operations change
Disaster recovery procedures
Costs change
Cash flow change
Pricing change
Digital Technology Choices
Disaster Recovery
Balanced Scorecard PDF
Covid19 Impact Quiz - Close Pivot Grow

Analyse your business and technology skills.
Analyse your online presence and your competitors.
Audit your Information, Communication and Technology resources.
New Environment
New customer needs for products and services
Update your customer segments
Product and services pivot to suit new problems and desires
Customer Profile Creator
Customer Profile Background PDF
Value Proposition Creator
Value Proposition Background PDF

Acquire keyword phrase volumes for your product sector.
Find keyword phrases your could compete with for more business.
Refine your existing content to rank higher of more traffic / leads / customers / profit.
Implement Business Recovery Strategy
Redesign the business model
Redesign the marketing model
Update products and services
Develop new quick ideas
Consider pricing levels for customers
Update skills, processes, mindset New strategy for traffic and offers
e.g. Email, ads, web pages, posts.
Online Business Model Creator
Online Marketing Plan Creator
Product and Design Questions PDF
Online Idea Research Checklist
Technology skills analysis
Website Traffic FAQ
Keywords for Content Marketing
Content Success Factors
Google My Business PDF
LinkedIn Branding PDF
Email Marketing and You

Design your current and future business model with business and technology attributes.
Create a 9 part Marketing Plan for the modern era.
Utilize Sales Copy Generation for sales letters, emails, ads, posts, video, web pages, tweets...;
49 questions, 15 types of content, ~24,000 unique words;
Activate new sales channels.
Build a Google My Business (Google Map) entry remotely.
Build a LinkedIn Business page remotely.
Create a Google or Facebook Ad campaign.
Build an optimized website.
Created by Matthew Bulat https://www.matthewb.id.au/ | https://transformstar.com/ | https://itjobsformula.com/
Implementing Business Transformation Framework Actions and Results for Business Transformation.
Secrets of Customer Value Journey - Gain Customers The Top 5 Questions Business Owners Should Always Ask About Customer Value Journey.
Secrets Of Marketing Strategy - Grow Your Business Faster The Top 4 Marketing Strategy Examples Every Business Owner Needs To Know.
How To Win At Content Marketing And Build Business How To Activate Sales Channels With Prepared Copywriting.

YES! I Want To More Potential Customers Channels Into The Future in 1 Week
Matthew Bulat on LinkedIn | Contact