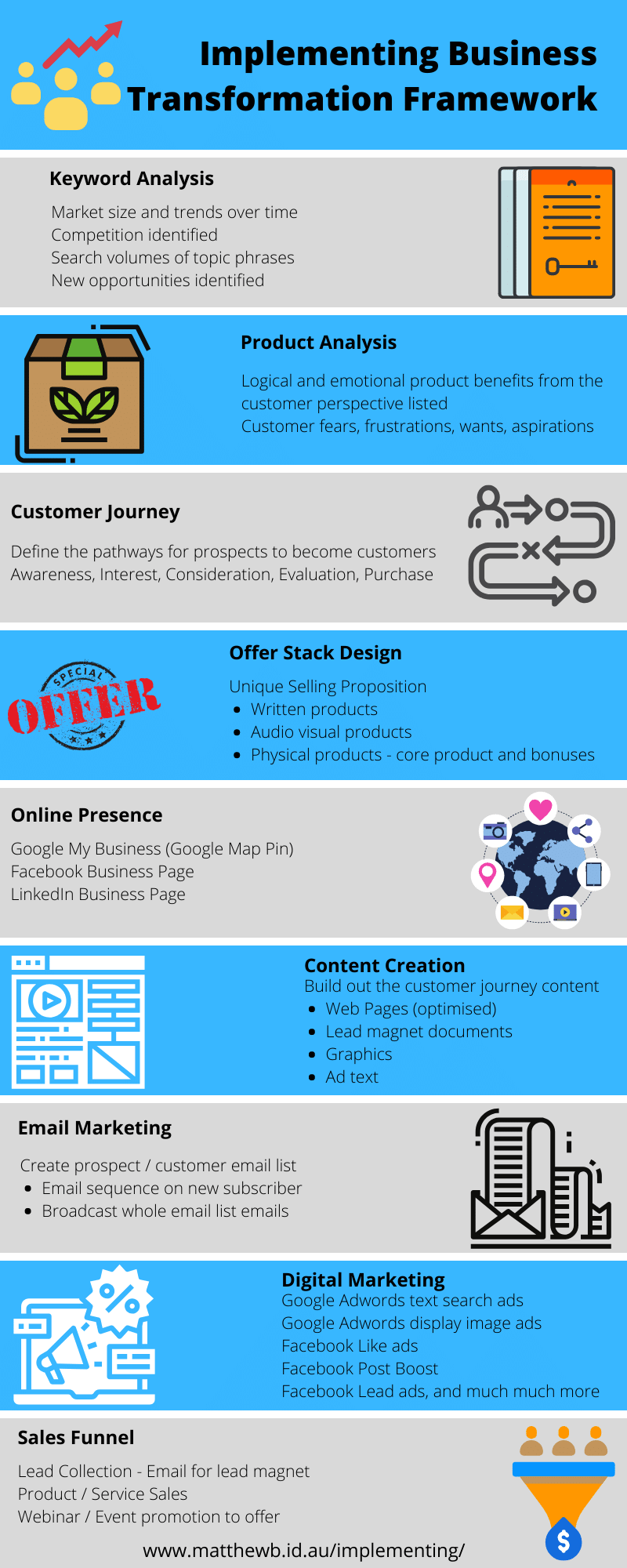 Actions
Results
Keyword analysis
Market size and trends over time
Competition identified
Search volumes of topic phrases
New opportunities identified
Product analysis
Logical and emotional product benefits from the customer perspective listed


Customer fears
Customer frustrations
Customer wants
Customer aspirations

Customer journey
Define the pathways for prospects to become customers


Awareness
Interest
Consideration
Evaluation
Purchase

Offer Stack design
Unique Selling Proposition


Written products - ebooks, reports, articles...
Audio visual products - courses, videos, webinars, events
Physical products - core product plus bonuses
Miscellaneous products - support, groups, phone consultation

Online presence
Google My Business (Google Map pin)
Facebook Business Page
LinkedIn Business Page
Content creation
Build out the customer journey content


Web pages (optimised)
Lead magnet documents
Graphics
Ad text

Email Marketing
Create prospect / customer email list


Email sequence on new subscriber
Broadcast whole email list emails

Digital Marketing
Google AdWords text search ads
Google AdWords display image ads
Facebook Like ads
Facebook Post Boost
Facebook Lead ads
Others
Sales Funnel
Lead Collection - email exchange for lead magnet.
Product / Service Sales
Webinar / Event promotion

Don't sit on this knowledge and forget about it, put it to good use and implement Business Transformation Framework Success.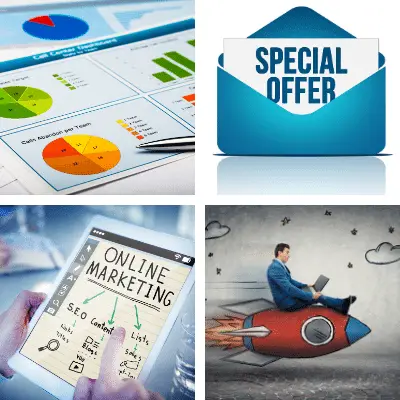 11 Secrets to Business Transformation Framework Success

---
Created by Matthew Bulat https://www.matthewb.id.au/ | https://transformstar.com/ | https://itjobsformula.com/
Business Recovery Strategy
Implementing Business Transformation Framework Table 1 Page PDF
Implementing Business Transformation Framework Description 3 page PDF
Customer Value Journey
How To Win At Content Marketing And Build Business

Matthew Bulat on LinkedIn | Contact