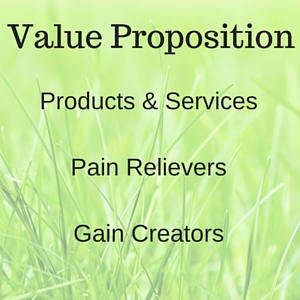 Rank Products and Services, Pain Relievers, Gain Creators in terms of importance.
Products and Services - This is simply a list of what you offer.
Pain Relievers - Describe how your products and services alleviate customer pains.
Gain Creators - Describes how your products and services create customer gains.
Value Proposition Creator Instructions
Answer the 3 main questions of your value proposition. Place most important answers in order of importance.
Click Create Value Propostion button
Export the image of your results. Right click and save.
Value Proposition Generator FAQ
Value Proposition template
This Value Proposition Creator above makes your custom value proposition template with title, products/services, pain relievers, gain creators.
The results are available as a 1 page Value Proposition image.


Value Proposition Canvas
The Value Proposition Creator is based on Value Proposition Canvas in a one page format.
More Value Proposition Canvas can be found here. Value Proposition Design PDF


Unique Value Proposition examples
Here is a image of a sample Unique Value Proposition example.
Unique Value Proposition example image


How to write a value proposition
A Value Proposition is one of the most important parts of a Business Model Canvas Creator.
Unique offer, solves customer pain/problem, audience has buying power, audience can be found easily, niche market is growing, high value for the price.
Dream outcome, high likelyhood of success, quick results, reduced work, reduced risk.