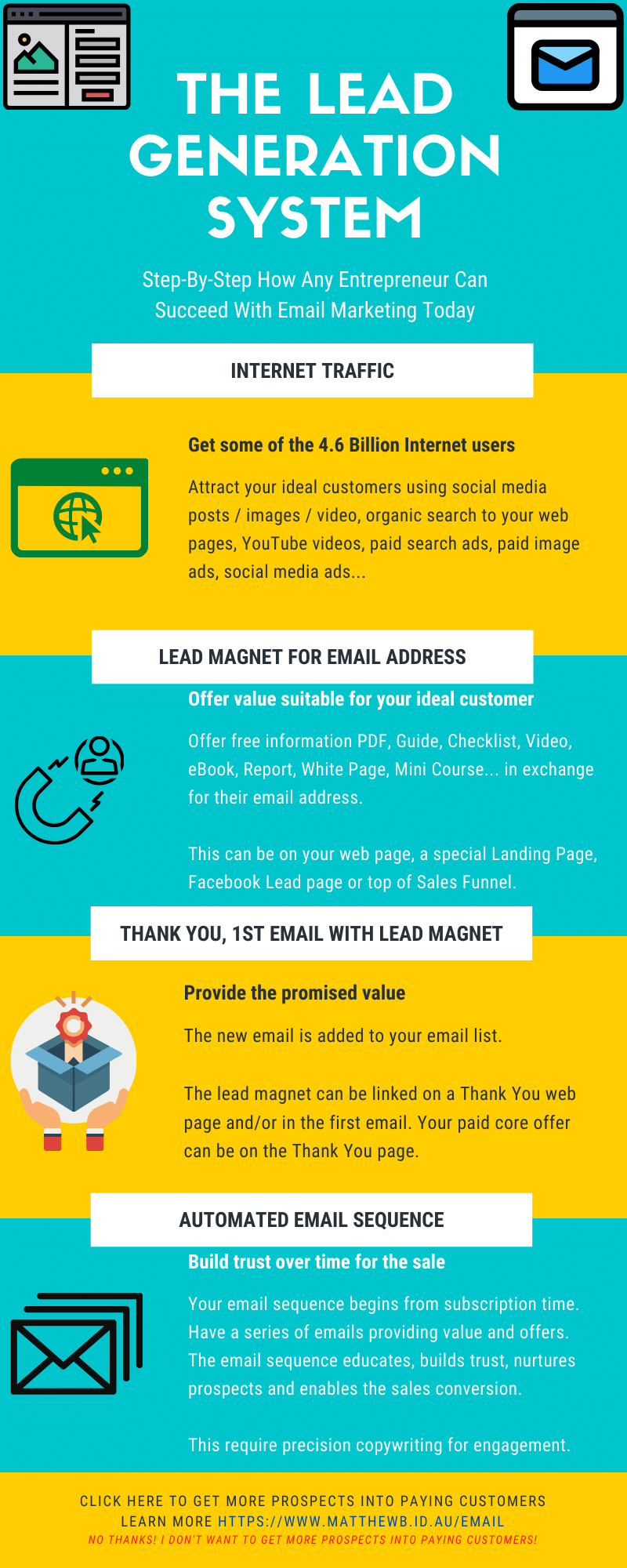 What Every Entrepreneur Needs To Know About Lead Generation and Email Marketing.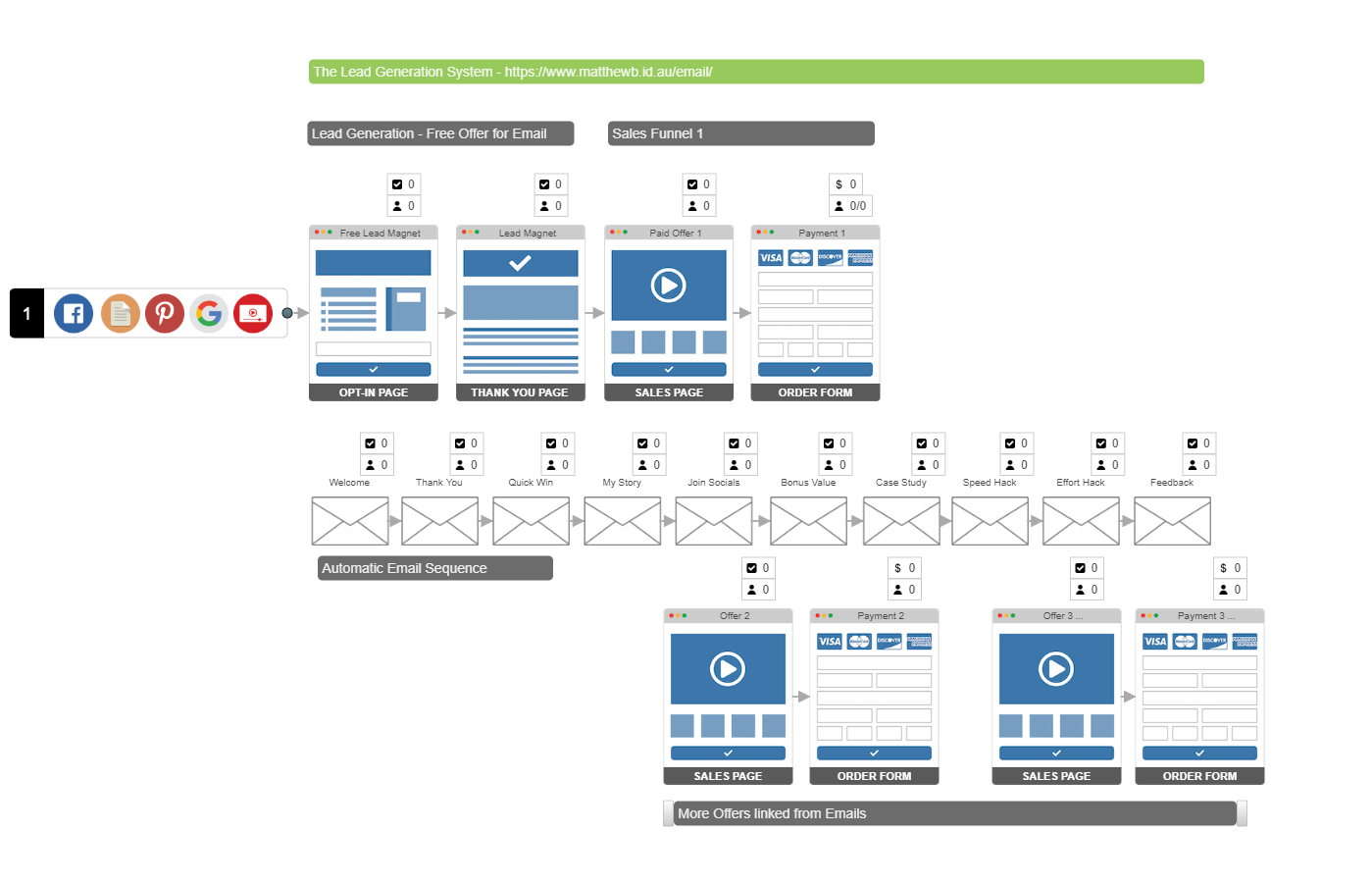 Step
Description
Do it yourself tools
Done for you service
Internet Traffic
Get some of the 4.6 Billion Internet users
Attract your ideal customers using social media posts / images / video, organic search to your web pages, YouTube videos, paid search ads, paid image ads, social media ads...
30 Best Website Traffic FAQ
Customer Segment Research Tool
How To Gain Customers With Minimal Costs
Facebook Lead Ad Case Study
Facebook Audience Research Tool

Work with someone who has over 1 million website visitors per year with free organic traffic.
Start with your customer keywords and questions to align your message.
Know in advance what your competitors are doing on their website and via advertising.
Create a Unique Selling Proposition.
Lead Magnet for Email Address
Offer value suitable for your ideal customer
Offer free information PDF, Guide, Checklist, Video, eBook, Report, White Paper, Mini Course... in exchange for their email address.
This can be on your web page, a special Landing Page, Facebook Lead page or top of Sales Funnel.
The 4 Content Marketing Success Factors
Marketing Plan Creator
Email Marketing and You for Lifetime Customers
Customer Value Journey

Create Landing Page and Lead Magnet like this.
LinkedIn Success
Facebook Ads University Free Training
List Launch Pro Free Training
How to Build Competitive Advantage

Thank You, 1st Email with Lead Magnet
Provide the promised value
The new email is added to your email list.
The lead magnet can be linked on a Thank You web page and/or in the first email. Your paid offer can be on the Thank You page.
Headline Generation Tool
Implementing Business Transformation Success
Content Creation for Small Business
Content Marketing Toolkit Course
The Thank You page can also incorporate another sales funnel or a promotion of several products.
Your new prospect can learn more about your business in minutes.
Your email list is a business asset that can improve lifetime customer value.

Automated Email Sequence
Build trust over time for the sale
Your email sequence begins from subsciption time.
Have a series of emails providing value and offers.
The email sequence educates, builds trust, nurtures prospects and enables the sales conversion.
This requires precision copywriting for engagement.
How To Win At Content Marketing And Build Business
Marketing Strategy Examples
Analyze and discover your competitor's SEO strategies with SEMrush. Try them FREE here!
Exclusive FREE 14-day Semrush PRO trial
Have proven script sequences for your emails for engagement.
A new prospect email sequence is about 10 emails.
This can include offers for several products, your story, social media following, tips, links, videos, reports, web page links...
You can also sent email to your whole email list using a Broadcast email. e.g. Newsletter, News, Events, New product launch...

YES! I Want To Gain Customers With Email in 1 Week
Select the time and date for a FREE 15 minute call to discuss your next step forward.
Created by Matthew Bulat https://www.matthewb.id.au/ | https://onlinetransformstar.com/ | https://itjobsformula.com/
Secrets Of Marketing Strategy - Grow Your Business Faster The Top 4 Marketing Strategy Examples Every Business Owner Needs To Know.
Implementing Business Transformation Framework Actions and Results for Business Transformation.
Business Recovery Strategy Review the new business environment and implement a business recovery strategy.
How To Win At Content Marketing And Build Business How To Activate Sales Channels With Prepared Copywriting.
Matthew Bulat on LinkedIn | Contact