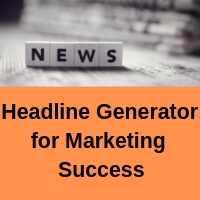 Why look at multiple headlines?
A headline can attract an audience to read further.
Show how your content will help your niche audience to engage them.
Build your readership, prospect list and eventual customer list.
Use powerful headings in advertising for improved customer conversion rates which also save you money.
Poor headlines lose you money as your content is skipped over.
Headline Examples: Everything you ever wanted to know about ... Secrets to fix ... How to win with ... 5 Ways to bring ...
7 ideas to spark your ... 5 Roadblocks to a successful ... Lessons I learnt from ... plus much, much more.
Headline Generator Inputs
Consider keywords that your audience will understand.
Select the headline results from the above text area. Ctrl A = Select All, Ctrl C = Copy, Ctrl V = Paste.

Use this text in web page titles, article headings, post headings, meta descriptions, secondary headings etc.


Writing is an adventure. There is no way to know where it will take you, and what you will find. You could find success. You could find fans. Or, best of all, you could find yourself. -M. Kirin
Open the doors of opportunity,Success is waiting there for you. -Aditya Pandya