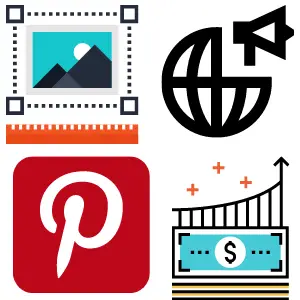 If you're a business owner who wants to gain more customers, then here is a trick you need to know if you want to avoid having to find new customer by word of mouth only.
The Bottom Line Here Is: Pinterest Social Media Marketing
The main idea for every business owner with this trick is that Pinterest can be used to drive traffic to your website with minimal costs.
Pinterest can be a new sales channel into your business.
Pinterest has 320 million users. It is the 30th ranked website in the world. Plus it has domain names for each country.
A Pinterest Pin image can showcase your products and services as an image + description + website link.
You can make as many Pinterest Pins as you want for free.
Your Pinterest Pins can be promoted with advertising to reach 1000's of people.
Pinterest Pin Saves by other Pinterest users create backlinks to your website improving its authority.
The most important thing to get with this trick is Pinterest can help you gain more customers.
Pinterest can be leverage to quickly reach 1000's of people with advertising and organic reach.
After performing 38 advertising campaigns the results show:

Cost per 1000 impressions (Pin image ad views) is $1.41. (average)
Cost per Click to website is $0.15 (average)
This is way cheaper than Google and Facebook.

This trick comes next because New customers are needed for business growth.
You can control how many Pinterest Pin product and services images you want.
You can control the advertising spend in terms of dollars per day.
Each dollar get over 6 visitor / prospects / customers to your website to engage with your business.


Now the thing for you to do is to Create a Pinterest Pin image, description and a link to your website. The preferred size is 1000 pixels wide x 1500 pixels high.
Promote this Pin image with some advertising. e.g. Default is $1 per day for 10 days =$10.
Based on 38 Pinterest campaigns experience $10 buys 3800+ Pin views & 66 website clicks.
Repeat as often as you like.
Note the quality of the Pinterest Pin description and destination web page content matters. This includes choosing the right popular keywords used by your customers.


One more thing. Did you know, you can grab this New custom group of copywriting content for your business marketing needs on how to gain more customers! Get it here: https://www.matthewb.id.au/content/