Australian Fibre NBN Rollout Maps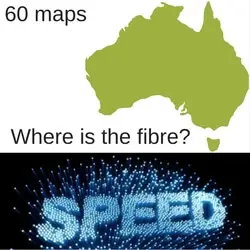 When is the National Broadband Network (NBN) coming to my suburb?
Is my business or home in a current fibre service rollout area?
What year and month will I be able to connect to the NBN?
See 60 detailed maps of NBN fibre services areas around Australia.
Google Map of NBN Rollout
Australia wide NBN interactive Google map
This includes current and future rollout information.
NBN rollout detailed spreadsheets
The rollout information is updated monthly.
NBN Network Rollout Look for the Monthly ready for service rollout plan (ZIP).
Rollout is by Fibre Service Module (FSM) which is approximately 3000 premesis.
See maps for your FSM zone and compare with the spreadsheet rollout plan for completion month.

FSA = fibre serving area.
Purple Shading = Fibre Covering Area - Service available
Brown Shading = Fibre Covering Area - Construction commenced
Green Shading = Fibre Covering Area - Planning commenced

Current NBN fibre rollout detailed maps
See What Internet Speeds do I need?
NBN Business Plan - What can be done now?
74 ways to use the NBN. Make your own custom list.
Audit your site in preparation for the NBN. Save time and avoid issues.

820 NBN Fibre Suburbs
970 NBN Wireless Regions

Most towns with 1000 premesis (homes + businesses) will have a fibre connection (FTTN or FTTP).
NBN connection may be gained by fixed wireless link or satelite at lower speeds. This is due for completion by 2016.

Prices are similar to ADSL with much more speed and download limits.
NBN fibre Internet plans are available from many Internet Service Providers.NBN Certified Service Providers