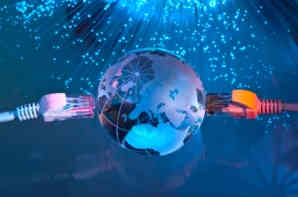 What should you consider when organising a NBN connection?
Avoid a copper phone disconnection by planning ahead.
Once a suburb is declared as NBN ready then the copper is disconnected 18 months later.
NBN Availability Interactive Map
During the 18 months if you have a NBN order in place then no phone disconnection will occur to you.
NBN Second release sites have copper disconnection in 2014.
Current Infrastructure Audit
Copy the NBN Connection Information results to save/email/print.
NBN Connection Steps
Discuss with any special telephony equipment supplier your intention to move to NBN. Follow instructions given.
Select an NBN reseller of telephony and Internet services.nbnco.com.au/certified-service-providers.html
Discuss your NBN requirement as collected above.
Order a NBN service.
Stage 1 - NBN connection is added to the outside of your premises. External Fibre junction Box hardware and connection is free from NBN.
Stage 2 - External NBN junction box is connected to a interior NBN Network Termination Unit NTU. NTU is free (property of NBN Co) via NBN service provider. Fibre cabling from outside to inside your premises is free (up to 40m).
Stage 3 - Any extra special cabling requirements can be completed at your cost. NBN can work with cordless phones and WiFi computing and no special cabling.
Stage 4 - Connect telephony to NBN NTU phone sockets. Connect your Internet Router with WAN connection to NBN NTU. Connect any wired Ethernet devices to your router.
Stage 5 - Connect NBN NTU to power point and turn on. Enjoy the NBN.
NBN Co Standard fibre installation inclusions
For a larger list of NBN possibilities see NBN Checklist
To redo your business plan to include extra digital options possible see Business section.
Business Model FAQ, Examples, Creator and Definitions.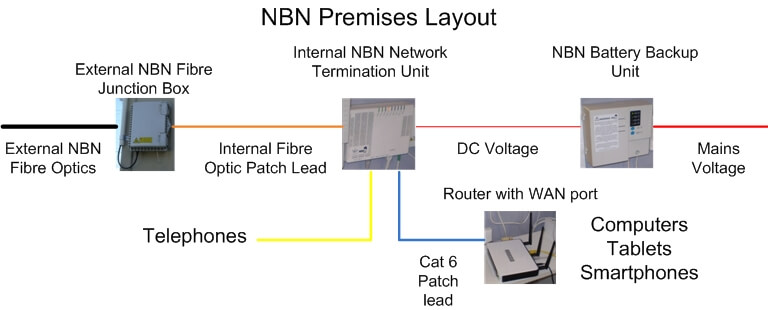 External NBN Fibre Junction Box location
Try to select a location of the external NBN fibre junction box so that there is a power point close by on the internal wall. The saves you the cost of additional power point installation.
Enternal NBN junction box to internal NTU distance
Try to make the external to internal connection through just one wall. This reduces the fibre cable length and can eliminate the need for conduit ducting.
Internet Router Choice
If using NBN Internet you need a Internet router with a WAN Ethernet socket. The router can be supplied by the NBN Internet service provider. Relatively new ADSL routers with a WAN socket can be used reused with the NBN. Buying a Internet router is about $100-$200 (Gigabit WAN/Ethernet + WiFi N).
Minimizing Internal Cabling Needs
The simplest setup is simply plugging in a telephone into the first NTU phone socket.
If you have your internal telephony cabling disconnected from the external phone line, you may be able to reuse it for connection to NTU phone socket (requires cabling professional).
A cordless phone with base station and multiple phones can be used from the one NTU phone socket. No phone wiring required.
Having a Internet Router near the NTU with WiFi turned on allows NBN access to computers / tablets. No networking wiring required.

NBN Plan B - Smartphones
Smartphone Advantages
Portable telephony and Internet access.
Smartphone can operate as a portable Wifi hot spot for computers or tablets.
Access to over 1 million application on iOS (Apple) or Android (Google).
Access to some cloud based applications.
Smartphone can operate as a GPS, music player, video camera, alarm clock, torch.
Smartphone can handle cloud email, documents, file sharing and social media.
Smartphone Disadvantages
Much more expensive Internet access per GB.
Generally more expensive telephony.
Much smaller monthly download limits.
Shared Internet access technology. Can slow down during busy periods.
Advanced Internet uses are limited.
Requires charging daily.
Cabling Guidelines for NBN fibre transition
Fibre NBN Cabling Industry Guidelines PDF link
What are the roles and activities of cablers with dealing with NBN transition?
See many diagrams of how buildings with convert to NBN.
How will the installation be tested in terms of alarms?
Terminology used in NBN transition.
What does VOIP telephony look like with a NBN connection?
How are alarm dialers connected with a NBN installation?
What paperwork should be filled in by the cablers?

Use the NBN to your advantage.