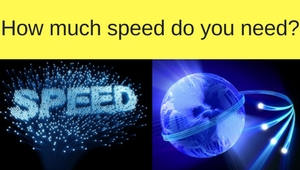 Fast Broadband Speed Comparison
| Internet Connection | ADSL 1 | ADSL 2 | NBN 12 / 1 | NBN 25 / 5 | NBN 100 / 40 |
| --- | --- | --- | --- | --- | --- |
| Download Speed nominal Mbps | 1.5 | 10 | 12 | 25 | 100 |
| Upload Speed nominal Mbps | 0.1 | 0.1 | 1 | 5 | 40 |
| 1 GB download | 1.8 hours | 16 minutes | 11 minutes | 5 minutes | 1.3 minutes |
| 1 GB upload | 28 hours | 28 hours | 2.2 hours | 27 minutes | 3.3 minutes |
| VOIP calls simultaneously | 1 | 1 | 12 | 62 | 500 |
| HD Video conferences | 0 | 0 | 0 | 2 | 20 |
| Remote Server Thin Client Sessions | 1 | 1 | 3 | 15 | 120 |
| Multicast video broadcasting | No | No | No | Yes | Yes |
| Multicast audio broadcasting | No | No | Yes | Yes | Yes |
| Local Server - Remote Thin Client users | 1 | 1 | 3 | 15 | 120 |
| Local web server | No | No | No | Yes | Yes |
How to get faster NBN Internet Speed?
The above table describes a single NBN service. Each service is provided from a gigabit Ethernet socket. This can be expanded to 4 services using the same NBN equipment. Each service can be from different provider.

Add more bandwidth
Create redundancy using multiple providers
Dedicate 1 NBN service for VOIP
Dedicate 1 NBN service for branch to headquarter private networking
Split the NBN service to 4 tenants or units
NBN fibre provisioning for the future
The goal of NBN Co is to provision 12 fibres per 4 blocks of land/premises/houses. Each fibre can provide 4 services each. Therefore 12 fibres can provide for 48 independant users. This will allow for changes in building such as newly built units etc. For large buildings the telephony and Internet use can be managed as a whole. Within the building private fibre and Ethernet networking can be used. Each user can have their own phone and Internet usage bill.
General productivity gains from faster Internet Speeds
| Description | Activity Change | Benefit | Auxillery Benefit |
| --- | --- | --- | --- |
| Email | Faster HTML email display | Less time waiting to see email | Less time used for emailing |
| Internet Video | Less time waiting for video buffering | See video content faster | Research and training quicker |
| Internet Connections per premesis capacity | More simultaneous Internet users or devices possible | More work can be completed quicker | Business growth possible |
| Telework anywhere | Perform work from more places | Better availability | Disaster recovery options improved |
| VOIP anywhere | Laptop can be phone extension | Business extension can be answered remotely | Home business calls billed on business line |
| Video Conference anywhere | Connect multiple site with video | Video meetings can be set up quickly | Projects can be completed quicker |
| Backup files to anywhere | Multiple site backups possible | Disaster recovery improved | Less or no time handling tape backups |
Specific Industry productivity gains from faster Internet Speeds
| Description | Activity Change | Benefit | Auxillery Benefit |
| --- | --- | --- | --- |
| Travel Agent | Quicker bookings to remote servers | More commissions per hour | More agents per premesis possible |
| Educator | Students or teachers can be remote | More training options possible | Classes can be recorded for later playback |
| Web content developer | Add and check new content quickly | Content can be created quicker | Less testing time needed |
| Multi company projects | Cloud computing can work across companies | Information,files, calendar,to-do exchange is quicker | Project structure can be changed as desired |
| Retailer | Add online sales. Web content can be local or remote | More sales using the same space | Advanced web content possible |
| Accountant | See clients via video conferencing | Larger client pool possible | Cloud can be used to exchange accounts information |
| Chemist | Exchange Medicare Card information to Government quicker | Quicker script processing time | EFTPOS can also be processed quicker |
| Diagnostic imaging practice | Send video results across Internet | Quicker health outcomes | Only a single customer visit needed |
| Video content creator | Send HD video products across Internet | Quicker delivery to clients | Clients can be worldwide |
| Local Data Centre provider | Support multiple business computing services. Computing resources can be shared | Less client business capital costs | Remote thin clients and backups can be provided for |
Use the NBN to your advantage.