Renewable Solar thermal energy can be a economical way of generating clean energy on a large scale.
There is 1 existing and 2 planned solar thermal power plants in Australia.

Why use solar thermal power?
Can be associated with existing thermal power plants. e.g. Coal fired.
Can be built as a hybrid with Gas to lower carbon dioxide levels.
Can be built with molten hot salt thermal storage to extend operating hours.
Make productive use of arid land.
Free fuel costs while eliminating carbon dioxide emissions.
Northern Australia has equal highest levels of solar radiation in the world.
Technology used is Australian designed.
Liddell Power Station Muswellbrook NSW
This coal power station was extended with solar thermal energy.
It was used as a pilot to prove solar thermal energy design. It is successful and expanding.
Stage one was completed in 2004. Stage 2 was completed in 2008. Stage 3 is planned for completion in 2012.
macgen.com.au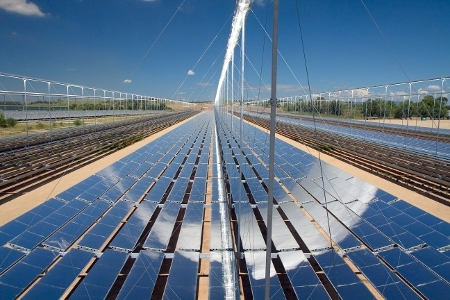 Chinchilla Queensland Solar Thermal Gas Hybrid Power Plant
This 250 MW power station is now in planning stages.
It will have 200 hectares of mirrors on a 400 hectare site.
85% of the energy will come from solar and 15% from gas power.
Molten salt thermal storage will be tested onsite with CSIRO and UQ research.
This will be the largest single solar thermal plant in the world.
The image below is of a 50 MW solar thermal plant in Spain. It includes molten salt storage.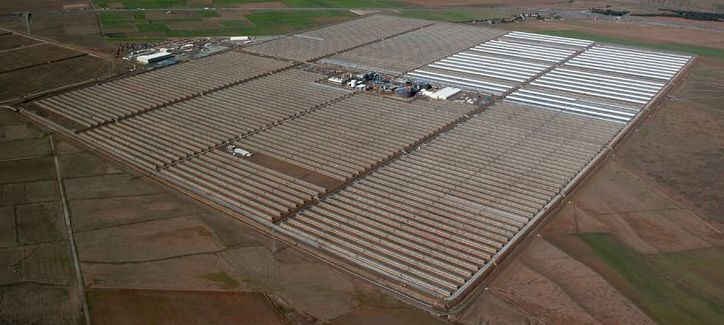 Kogan Creek Queensland Coal Fire and Solar Thermal Power Plant
Kogan Creek has a 750 MW coal fire power stations that has a planned 44 MW solar thermal upgrade.
This will make it the largest coal / solar thermal plant in the world.
kogansolarboost.com.au

Aurora Solar Thermal Plant - South Australia
This is a state approved 150 MW solar thermal project.
This includes 8 hours of solar thermal storage.
The expected generation is 500 GWh of power per year.
The location is near Port Augusta.
Aurora Solar Thermal Plant

Where could solar thermal power be used near your location?
Energy Efficiency Calculators | Solar Energy Section | Zero Electricity Bills - How many solar panels do I need?

Matthewb Homepage | Solar Power Calculator | Solar Powered Lighting | Solar Power Calculator for Solar Battery Systems

Energy Saving Tips