Solar power calculator for solar power battery systems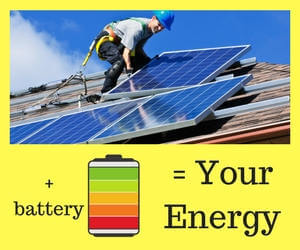 Is solar power with batteries cost effective for you?
How many solar panels and batteries are needed to suit your situation?
What is the cost of a generator over the long term compared with solar?

Remote solar power system configuration:
Solar panels + regulator + batteries + inverter + installation - government rebates - renewable energy credits
See What does solar power cost for more solar configuration details.
Solar Power System Pre-Requisites
Work out the likely electrical loads required from your solar and battery system
See Solar Power Load calculator below.
Try to be electrically efficient as possible before embarking on a solar project.
See Energy Efficiency eBook which covers 60 technologies and 54 free best efficiency practices.

Design your solar battery system to meet your calculated electrical loads. Solar Battery Calculator