Evacuated Tube Solar Hot Water Systems for Home use Calculator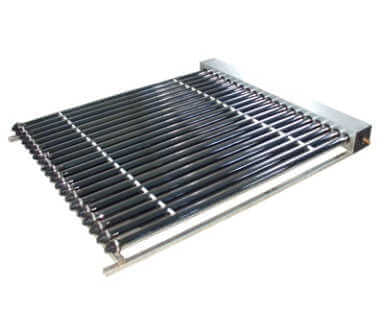 What are the advantages of evacuated tube solar hot water?
Is it suitable for your location and hot water consumption?
Calculate your hot water consumption and expected solar hot water creation over its lifetime in your location.
Results in under 5 minutes.
Evacuated Tube Solar Hot Water Advantages
Less weight on roof. Can be less than 40 kilograms.
Smaller in area on roof compared to alternatives.
More efficient with different angles of the sun.
Hot water tank is on the ground. Less issues with storms.
Evacuated Tube quantity and tank size can be varied to suit location.
Easier to place on the roof than a single large heavy solar collector.
Evacuated Tube Solar Hot Water Disadvantages
Small circulation pump needed to move water between tank and solar collector when heating. E.g. 30 watts.
Solar hot water can provide 60-80% of your hot water needs
Solar system needs an electronic controller consuming about 5 watts.
Solar Hot Water Plan
Confirm you are operating with hot water efficient tap-ware.
Calculate your hot water consumption
Enter your current power cost per kWh
Use link to work out the solar radiation available in your location of the world
Click Get Results button and review the findings
Look at the return of investment values. At what installed cost is solar hot water viable?
Hot Water Efficient Tap-ware
Replace a shower head for a water efficient one and Save 55% in water and associated heating costs.
Install tap aerators and Save 75% in water and associated heating costs.
Hot Water Use Consumption Calculation
Fill in the first 2 columns. Use 0 if not applicable.
Solar Hot Water Considerations
A larger water tank can take compensate for a cloudy day causing lower solar water heating.
Size the solar collector for your hot water consumption and average daily solar radiation.
The best aspect for solar panels is facing the equator (Northern hemisphere face south, Southern hemisphere face north).
The ideal pitch angle equals to your location latitude.
Special considerations are needed in frost or snow areas.
Instantaneous gas heating can be used after the hot water tank to make up any shortfall in water temperature.
Become familar with any government rebates available. E.g. $1600 is available in Australia.
Renewable Energy Credits (RECs) can be sold after installation of solar hot water in some countries (~$1000-$2000).
| | | |
| --- | --- | --- |
| | | |
| Where is your hot water energy consumption going? | | Does this type of Solar Hot Water System suit you? |

Calculate all possible energy efficient activities and see which ones are easiest to implement and get the best return on investment.