Convert CSV to XML and CSS
Convert CSV (comma seperated value) files into XML (eXtensible Markup Language) quickly online.
Copy in the CSV and click Get Results button. XML and CSS results appear in the lower text areas and can be copied out.
XML can be used to store data description plus values. XML can be displayed by control of a CSS (Cascading Style Sheets) file.
---
CSV Input
Sample CSV, Heading2, Heading 3
Row1,Row1a,Row1b
11,22,33
CSV now XML code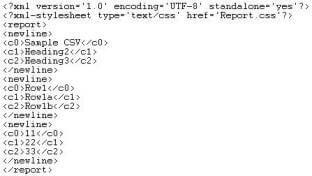 XML plus CSS formatted results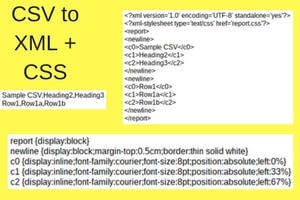 ---
XML Viewer
Open the .xml file with an Internet browser.
The XML document will show as a report with styling provided by the report.css file.
XML data will appear in columns evenly.
Advanced XML Viewer
Advanced system administrators can have the XML and CSS files directory within an Intranet company website.
Add directory read access to open any of the XML files.
Track company KPI data daily if desired.