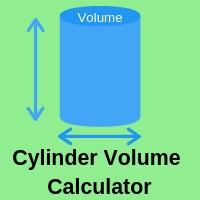 Work out the volume of a cylinder using metres and centimetres.
Four cylinder volume calculators based on radius or diameter in metres and centimetres.
Calculate volume of cylinders or tanks.
Cylinder Volume Formula
Cylinder Volume = pi x radius squared x height
V = π r2 h
Cylinder Volume = 3.14159265 x radius 2 x height
1 cubic metre = 1000 litres
1 cubic centimetre = 1 millilitres. 1000 cubic centimetres = 1 litre
How do I find the volume of a cylinder
Enter the radius or diameter and height of a cylinder and click Get Volume Results. Results on the right in cubic units.
Copy out your volume of a cylinder results. Highlight answer. Ctrl C = copy, Ctrl V = paste.