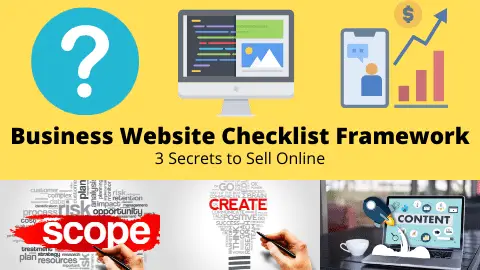 Let me tell you a quick story…
There I was, an operations manager trying to make impact online.
The thing is, at the time I was trying to becoming an online authority.
The big problem was that trying to sell an eBook without traffic. That meant poor eBook sales, which little side income.
Then, as if by chance, something amazing happened...
I created lots of online content to create the traffic with content ads that could earn more than book sales!
Instantly it became crystal clear to me how to traffic quantity is proportional to keyword ranking volume and content quantity, because I saw you can control business growth with keywords and content.
My plan was to start review the keywords that were ranking and expand around those topics.
So I started methodically create content in clusters around several topics. But we didn't stop there.
We then shared the new content on several social media channels.
After that, we build backlinks to the new content.
Building on that success, we decided to create a Business Website Checklist that can work for others.
We call it "Business Website Checklist Framework".
With Business Website Checklist Framework I can now get a business website online in 2 days !
And that's why I'm so excited to share this with you so you can get these types of results too!
Big Picture Strategy For How To Sell Products And Services Online:
Business Website Checklist Scope Questions
Business Website Checklist Build Step
Business Website Checklist Content Step
Business Website Checklist Scope Questions
What is the industry for the website?
How many products or services are being sold?
What is known about the target audience? Customer Segment Research Tool
What is the seed keywords you want to rank for? Business Keyword Analysis
What is the desired website domain name? e.g. yourbusiness.com
Business Website Checklist Build Step
Buy the website domain name and hosting Website Hosting Comparison
Install WordPress, theme and business logo
Create titled blank web pages
Create the menu for the pages
Install plugins for eCommerce, payments, contact form, SEO
Point the domain name to the WordPress installation
Setup the SSL certificate for https secure communications
Setup Google Webmaster Tools and Google Analytics
Business Website Checklist Content Step
Fill out the web pages with content
Fill out the web pages with graphics
Create the product and services pages in detail
Examples Of This Framework In Action:
This framework has been used to sell physical books online
The framework has been used to sell management consulting online
This framework has been used for non profit organisations
Conclusion / Final Thoughts:
Know your audience online
Use their keywords in your content
Share your new content to create awareness and interest
Grow your business with keywords and content
Next Steps:
Review the Business Website Checklist Framework for new and existing websites
Define your baseline in terms of audience needs, keyword search volume and your products and services
Build your website with suitable content for customer awareness to purchase