Read each page of The Business Accelerator Results System Course
Review the associate Tools and Resources
Complete the associated activities relevant to you
Enable Business Accelerators one at a time
The Business Accelerator Results System Course


My 12 Step Strategy For Creating Business Sustainability And Growth Going Forward!
Review the business accelerators to see which ones you have and want.
Consider refreshing your business plans for the modern marketplace.
Lesson 1: Main Goals
Imagine the ideal future and complete the plan. PDF Form.
See forward planning from 3 perspectives.



Lesson 2: SWOT Analysis
SWOT - Strengths, Weaknesses, Opportunities, Threats.
Review the business from 4 sides.
Samples attributes to consider are on the PDF.


Lesson 3: Business Strategy
Score your Business Strategy. 9 x 8 Strategy Planner PDF.
Alternatively, create a strength and weaknesses Strategy List.


Lesson 4: Online Presence
Start the Google My Business (Google Maps) Listing. Instructions PDF.
Validate by phone (preferred) or postcard (mail).
Online Presence and Business Branding. Article PDF.




Lesson 5: Business Model Canvas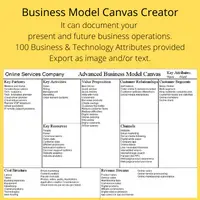 Online Tool to build your business model (current & future).
Export as an image and / or text.
Validate the business model versus reality.



Lesson 6: Ideal Customer Avatar
Complete your ideal customer avatar details. PDF form.



Lesson 7: Customer Segments
Online Tool to identify where your customers are online.
Export your customer segment(s).



Lesson 8: Customer Keywords
I use Semrush keyword tools. See PDF links for background.
Use keyword research for content marketing planning.


Find your own keyword rankings, keyword rankings of the competition, marketplace demand from search volume...

Lesson 9: Marketing Plan
Flesh our your marketing plan in more details. Online Tool.
Export as an image and / or text.



Lesson 10: Customer Channels
Create a LinkedIn Company Page.
Create a Facebook Business Page.




Lesson 11: Customer Journey to Purchase
Make a list of content needed for your prospect to purchase.
Infographic with descriptions and tools.



Lesson 12: Copywriting
See 23 types of copywriting in the PDF.
e.g. About Me, Emails, Blogs, Ads, Sales Letters, Video Sales Letters, Headlines, Sales Copy Bullets, Ecommerce Descriptions, Social Media Posts.


Done for your service. 49 questions Google Form for 20,000+ words of content. See e.g. list above.



Lesson 13: Content Implementation
Add products and services into Google My Business.
Add products and services into LinkedIn Company page.
Update website with new sales copy. See 30 Website FAQ.



Bonus Lesson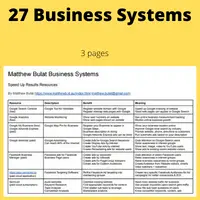 Leverage business system software to scale up business faster.




Programmed and Created by Matthew Bulat.
Now that you can see where your business can move forward, contact me for implementation.


Business Strategy Tips for Business Growth by Design
8 Simple Steps Every Business Owner Can Follow To Gain Business Transformational Success
Available as Amazon Kindle or Paperback