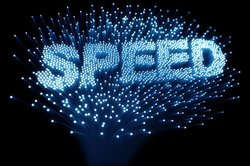 Network Termination Device NTU
This is a fibre transceiver that is used in the premesis to convert fibre traffic into Ethernet and Telephony services.
NEC and Alcatel make NTU devices.
Sample NTU Specifications
Full speed 2.5 Gbps range is 20 kilometres from Point of Interconnection.
RJ45 Gigabit Ethernet sockets available for networking.
RJ12 POTS analogue phone sockets available.
Video Multicasting standards accepted
SIP VOIP telephony standards accepted
Virtual LAN and virtual private LAN standards accepted
Battery backup exists for NTU.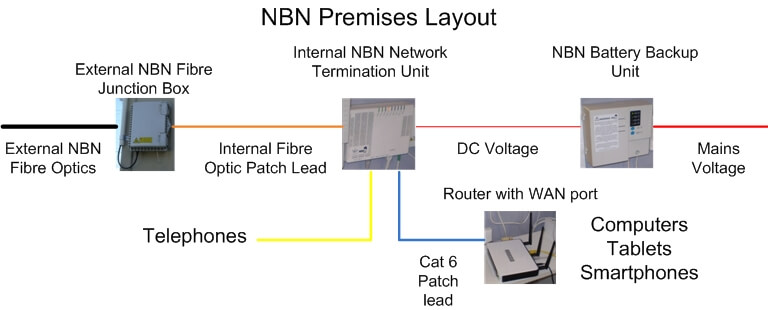 ---
The images are of a working NBN connection at Aitkenvale. The speed achieved to Sydney is 92 Mbps download and 30 Mbps upload.
NBN NTU to LAN hardware connection options
The choices for Local Area Networking for NBN network speed can vary depending on your needs.
Gigabit LAN wired network
A gigabit router can control Internet traffic versus LAN traffic. Look for a router with gigabit WAN socket for connection to the NTU and PPPoE protocol support.
Gigabit LAN wired network with wireless G or N
A gigabit wireless router can control Internet traffic versus LAN traffic. Check router models that allow for multiple WAN interfaces including fibre NTU via Ethernet. Wireless security, local RF channels in use and wireless network cards standards need to be considered.
Networking using mains cabling
A slower network medium exists using mains power cabling (single phase). This may be useful where thick walls are present, rented premesis or heritage listed building are involved. This technology might be used to link the NTU to a central networking switch.
Analogue Telephony to home phones
Category 5 cables can be used to connect the NTU telephone sockets to the building analogue phones. Cordless telephone could reduce the cabling needed.
Analogue Telephony to PABX system
Category 5 or Category 6 cabling can be used to connect the NTU to the PABX. The PABX requires analogue trunk inputs.
VOIP Telephony to PABX system
NBN speed for both upload 40 Mbps and downloads 100 Mbps could theoretically handle 100's of simultaneous telephone calls using VOIP. The VOIP PABX can be located within the building as a managed service externally. A single VOIP PABX can service many branch offices. VOIP services can be provided from great distances (1000's kms).
Use the NBN to your advantage.