30 Cybersecurity frequently asked questions answered for you.
Insider Cybersecurity Secrets of How to Protect Your Business.
Cybersecurity Questions - Click question to link to answer.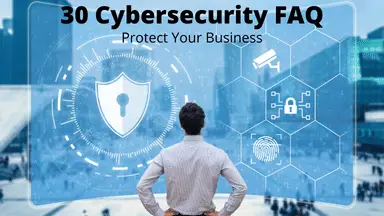 Do companies need cybersecurity?
How can I protect my business from cyber attacks?
How can companies prevent security breaches?
How do I get started with Cybersecurity?
How do I stop credit card fraud?
How has cyber security changed in the last decade?
How is cyber risk calculated?
How much does a cyber security consultant make?
Is now a good time to start a career in cyber security?
Is real-time attack detection the future of cyber security?
What are the best cyber security courses?
What are the best cyber security resources?
What are the career options in cybersecurity?
What are the five phases of the NIST cybersecurity framework?
What are the objectives of Cyber Security?
What are the uses of AI in cyber defence?
What is a cyber risk assessment?
What is a security risk assessment?
What is an information security framework?
What is an IT vulnerability assessment?
What is computer security?
What is cyber threat analysis?
What is cybersecurity?
What is information security governance?
What is the best defense against social engineering?
What is the biggest cyber security threat to your business?
What is the cyber security strategy?
What is the future of cyber security?
What is threat intelligence in Information security?
Why is cyber security really a business problem?

Cybersecurity Introduction
The internet is a dangerous place.
With cybercriminals and hackers, there's always the fear of your personal information being compromised.
But how much do you really know about cybersecurity?
If you're looking to take precautions against identity theft and other online threats, here are some answers to common questions about cybersecurity:
Cybersecurity Questions and Answers
Cybersecurity Conclusion
In light of the recent slew of data breaches and cyberattacks, it's more important than ever to take cybersecurity seriously.
Data security is a crucial element in today's digital world.
You can protect your personal information by being vigilant about what you share online and using secure passwords that are difficult for hackers to guess or crack.
But there's one thing many people don't think about when discussing cybersecurity - the need for a robust backup plan!
If your business data gets corrupted or destroyed, how will you be able to recover?
Cybersecurity Mindmap