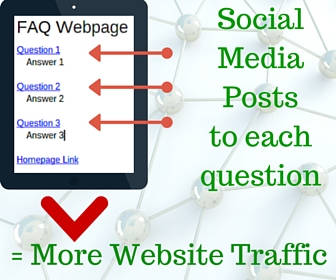 FAQ Web Page Creator Benefits
Create questions using popular customer search phrases
Generate more Internet traffic to your website
Raise customer awareness to the services you provide
Build customer trust using FAQ webpage before initial contact
You do the FAQ webpage creation yourself quickly for FREE
Each question will have a anchor link directly to it for social media sharing
FAQ web page results can be used within other website content management systems(CMS)
FAQ Web Page Creator Outputs
Full HTML webpage provided as text for export
Full list of anchor links for each question for social media sharing
Webpage includes links to top of page and your homepage
Sample FAQ links and webpage shown at bottom of this webpage
How to build you FAQ Webpage
Gather common questions asked of you by your customers.
Use online tools like Google Adwords Keyword planner (free) to gather a list of your industry keyword phrases.
Build a list of questions that relate to your services that use the popular keyword phrases.
Select all (ctrl a) Link List, copy (ctrl c), open Notepad, paste (ctrl v) save as faqlinks.txt

Move your new faq.htm file to your website. Use FTP to copy the file.
If using a content management system(CMS) create a webpage link to topic-faq.html
Add your faq.html into your sitemap.xml file for the search engines to find it.

Use you FAQ link list to social share your questions with the question link to the FAQ webpage.
Try to space your social media posts over time.
Consider other websites where the questions and answers may be valuable.

P.S. Your new FAQ webpage can provide FREE marketing into the future.
Sample Links and FAQ Sample Webpage
https://www.matthewb.id.au/topic-faq.html#What_is_FAQ
https://www.matthewb.id.au/topic-faq.html#Why_make_a_FAQ_webpage
https://www.matthewb.id.au/topic-faq.html#Why_is_this_FAQ_webpage_better
https://www.matthewb.id.au/topic-faq.html#What_FAQ_questions_should_I_make

---