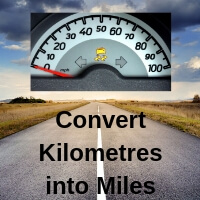 Convert km to miles
Convert kilometres and metres into miles and yards.
Conversion table included for the first 50 kilometres.
Further km to mile conversions from 100 to 2000 kilometres.
Convert kilometres + metres into miles + yards.
Enter a value in to the Kilometres and metre text box and click associated Get Results.
Miles and yards value is below. Decimal places are accepted with the input.
Kilometres, Metres Miles, Yards distance Conversion
1 kilometre = 1093 yards
1 km to miles = 0.62137
50 km to miles = 31 and 120 yards , 100 km to miles = 62 and 241 yards
150 km to miles = 93 and 361 yards , 200 km to miles = 124 and 482 yards
250 km to miles = 155 and 603 yards , 300 km to miles = 186 and 723 yards
350 km to miles = 217 and 844 yards , 400 km to miles = 248 and 965 yards
450 km to miles = 279 and 1085 yards , 500 km to miles = 310 and 1206 yards
600 km to miles = 372 , 700 km to miles = 434 , 800 km to miles = 497
900 km to miles = 559 , 1000 km to miles = 621 , 1100 km to miles = 683
1200 km to miles = 745 , 1300 km to miles = 807 , 1400 km to miles = 869
1500 km to miles = 932 , 1600 km to miles = 994 , 1700 km to miles = 1056
1800 km to miles = 1118 , 1900 km to miles = 1180 , 2000 km to miles = 1242
1 metre = 1.0936 yards
1 mile to km = 1.609344
1 mile = 1760 yards
1 yard = 0.9144 metres
1 kilometre = 1000 metres
Convert kilometres km to Miles and yards chart
| Kilometres into => | Miles | and Yards |
| --- | --- | --- |
| 1 | 0 | 1093 |
| 2 | 1 | 427 |
| 3 | 1 | 1520 |
| 4 | 2 | 854 |
| 5 | 3 | 188 |
| 6 | 3 | 1281 |
| 7 | 4 | 615 |
| 8 | 4 | 1708 |
| 9 | 5 | 1042 |
| 10 | 6 | 376 |
| 11 | 6 | 1469 |
| 12 | 7 | 803 |
| 13 | 8 | 136 |
| 14 | 8 | 1230 |
| 15 | 9 | 564 |
| 16 | 9 | 1657 |
| 17 | 10 | 991 |
| 18 | 11 | 325 |
| 19 | 11 | 1418 |
| 20 | 12 | 752 |
| 21 | 13 | 85 |
| 22 | 13 | 1179 |
| 23 | 14 | 513 |
| 24 | 14 | 1606 |
| 25 | 15 | 940 |
| 26 | 16 | 273 |
| 27 | 16 | 1367 |
| 28 | 17 | 701 |
| 29 | 18 | 34 |
| 30 | 18 | 1128 |
| 31 | 19 | 462 |
| 32 | 19 | 1555 |
| 33 | 20 | 889 |
| 34 | 21 | 222 |
| 35 | 21 | 1316 |
| 36 | 22 | 650 |
| 37 | 22 | 1743 |
| 38 | 23 | 1077 |
| 39 | 24 | 410 |
| 40 | 24 | 1504 |
| 41 | 25 | 838 |
| 42 | 26 | 171 |
| 43 | 26 | 1265 |
| 44 | 27 | 598 |
| 45 | 27 | 1692 |
| 46 | 28 | 1026 |
| 47 | 29 | 359 |
| 48 | 29 | 1453 |
| 49 | 30 | 787 |
| 50 | 31 | 120 |
kilometres to miles FAQ
6 km to miles
6 km = 3 miles and 1281 yards
5 km to miles
5 km = 3 miles and 188 yards
km to miles calculator
The calculator above can convert km to miles. km to miles calculator
km to miles chart pdf
See km to miles chart pdf 1-50 km to miles and yards chart PDF
10 km to miles
10 km = 6 miles and 376 yards