What is the minimum specification for a desktop computer to suit your needs?
Create a custom specification checklist for you.
Avoid spending too much.
Confirm you have included all the right components.
Copy the results and see which desktop computer suits you.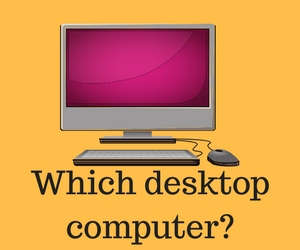 Desktop Computer Advantages and Disadvantages

| Desktop Computer Advantages | Desktop Computer Disadvantages |
| --- | --- |
| Expansion options available. | Large Size. |
| Ease of maintenance. | Dependancy of stable mains power. |
| Higher performance possible. | Larger power consumption. |
| Larger monitors than laptops possible. | Not easy to transport. |
Computer System Selection Guide
Click in the check boxes or select values on the right for each row that describes your usage. Click the Get Results button to generate the computer system specification results.
Desktop Selection Product Examples
Click on desktop images for more information
| | | |
| --- | --- | --- |
| Dell CFC5C OptiPlex 3050 Micro Form Factor Desktop Computer, Intel Core i5-7500T, 8GB DDR4, 256GB Solid State Drive, Windows 10 Pro | Dell K3T2W OptiPlex 5050 Small Form Factor Desktop, Intel Core i7-7700, 8GB RAM, 256GB SSD, Black | Lenovo ThinkCentre M710 M710q Intel Quad Core i7-7700T, 16GB RAM, 250GB Solid State Drive, W10P, Tiny Desktop Computer, 3 YR WTY |
| Lenovo ThinkCentre SFF M700 Intel Quad Core i5-6400, 8GB RAM, 250GB Solid State Drive, W7P / W10P Desktop Computer, 3 YR WTY | 2018 Acer Aspire TC-780 Desktop Computer, Intel Quad-Core i5-7400 up to 3.50GHz, 8GB DDR4 RAM, 256GB SSD + 1TB HDD, DVDRW, 802.11ac WIFI, HDMI, Bluetooth, USB 3.0, Keyboard & Mouse, Windows 10 | Acer Aspire TC-885-UR17 Desktop, 8th Gen Intel Core i7-8700, 8GB DDR4, 512GB SSD, 8X DVD, 802.11ac WiFi, Windows 10 Home |
Additional Computer System features to look out for
Energy Star 4 or 5 computers for energy efficiency
80 Plus standard power supplies (greater than 80% efficient power supplies)
Monitors with 1 watt standby are preferred.
Computer Power Management Features enabled
How to connect to the Internet?
If an Internet connection exists on the premises then the new computer needs to join the network using Ethernet or Wireless Ethernet.
Ethernet connection can be made with Category 6 cable.
Wireless Ethernet requires a Wifi card on the computer, Wifi ability on the network uses a Wifi enabled router or wireless access point. The wifi network name and password is needed for a connection.
There are multiple wireless network standards available A B G N. G is most popular and also handle B protocols. N is fastest but a relatively new standard. All wifi components need to work to one standard.
If the building is very hard to cable and the solid walls are too thick for wifi, then Ethernet adapters can use the house mains wiring as a communication medium. These are expensive and relatively slow.
For a new Internet connection the options include dial up, ADSL, cable, Fibre, mobile 3G and WiMax. Appropriate hardware and possible cabling need to be considered.
Investigate if VOIP telephony can reduce your overall communication costs.
Which Operating System to choose?
This depends on if there are any special requirements for your software choices. General computing can be achieved with Linux, Microsoft Windows 7 or Apple Mac OS X.
Cheap Computer Options
Choose just the amount of performance required.
Ignore the fastest processor i7 or fastest graphics card GTX 4xx / Radeon 59xx.
Consider open source or Internet based software.
Desktop form factor is often cheaper than all in one or media centre PC.
Chromebook computers for light computing needs can be cheaper than desktops.
Linux operating system (free) can be $200 AUD cheaper than Windows 10 Home Premium or Mac OS X.