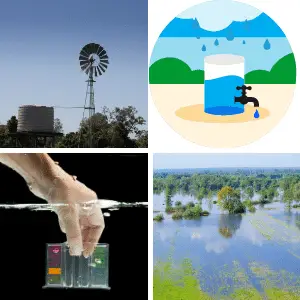 Groundwater Monitoring Background
This web page was created to respond to a Townsville, Queensland, Australia workshop called Amplifying Sustainability and Resilience Workshop.
The goal is to show the tools available to real-time monitor groundwater over a large area including trends over droughts and floods.
The origin of this need was the 2019 floods with 2 metres of rain falling in 14 days and flooding several suburbs.

Groundwater Monitoring Method
The resources provided were sourced using Google, YouTube, Facebook, Google Trends, Amazon, AliExpress and Buzz Sumo. Customer Segment Research Tool
This was further enhanced with SEMrush online analysis of the biggest organisations in Groundwater Monitoring.
It includes government departments, environmental groups, research groups, product suppliers and service providers.
Groundwater Monitoring on Facebook
Groundwater Monitoring | IGRAC group with 6500 members Facebook Group. International Groundwater Resources Assessment Centre Website.
IGRAC - International Groundwater Resource Assessment Centre 31000 likes Facebook Page. Global Groundwater Information System PDF
Mallee Catchment Management Authority 5000 likesFacebook Page. Catchment Management Authority Website.
Groundwater Monitoring on Google organic
Queensland Government - Water Monitoring and data Streamflow, wetlands and coastal catchments data, and information about harmful algal blooms.
Queensland Government - Groundwater monitoring for resource impacts Find out how to access groundwater monitoring data and participate in bore monitoring.
New South Wales Government - Groundwater Monitoring and Modelling Plans - Information for prospective mining and petroleum exploration activities
CSIRO SENSEI groundwater monitoring equipment.
USA Government Groundwater Monitoring

Groundwater Monitoring problems on Google organic
Diagnosis of Groundwater Monitoring Problems
Groundwater Monitoring Systems Excess extraction, groundwater levels, surface water interaction, groundwater quality, contaminants, quality data.

Groundwater Monitoring questions on Google organic
Groundwater Monitoring - Science topic 35 questions and answers.
How do I monitor groundwater levels? New South Wales Government groundwater section. Question search box present.

Groundwater Monitoring mistakes on Google organic
Groundwater Monitoring Technologies for Catchment Management
Potential sources of error in groundwater sampling
Science Direct- Statistical approaches to groundwater monitoring

Groundwater Monitoring roadblocks on Google organic
Research Article - Groundwater Withdrawal Prediction Using Integrated Multitemporal Remote Sensing Data Sets and Machine Learning
Research Gate - A roadblock on the path to aquifer sustainability: Underestimating the impact of pumping reductions
Conceptual Frameworks for ground-water-quality monitoring U.S. Environmental Protection Agency PDF

Groundwater Monitoring organisations using Google Ads
Solinst High quality groundwater monitoring instruments and surface water monitoring instruments including water level meters, interface meters, groundwater samplers, dataloggers and more!
RPS professional services Your local expert for environment services in Australia.
Eurofin Agroscience Services Eurofins' international team of ecotoxicology and environmental chemistry experts provide a complete Environmental Safety solution for agrochemicals.
Ground Water Imaging Pty Ltd We specialize in towing geophysical equipment across farmland and inland waterways for the purpose of imaging the substrate groundwater and geological properties.

Groundwater Monitoring organisations globally ranked highly as seen on SEMrush
Enviro Tech Quality Environmental Products EnviroTech Online rents and sells environmental monitoring equipment for soil sampling, water testing, air quality, and other ground instrument supplies.
Heron Instruments Inc. Heron Instruments Inc. is located in Ontario Canada, we manufacture and sell Water Monitoring Equipment to drillers, hydrogeologists and consultants worldwide.
Groundwater Software Online sales of a wide range of groundwater sampling equipment including YSI 556, and Solinst Levelogger including software such as MODFLOW, RBCA Tool Kit, Hydrus, Surfer 9, and Groundwater Vistas.
ENVIEQ Water Products Section Water meters, data loggers, water quality meters, water sampling, flow meters, pumps.
Waterline Envirotech Ltd. Groundwater monitoring instruments.
Well-Vu Underwater Inspection Camera | Borehole Inspections | Cheap Underwater Camera
Laval underground surveys Inspect and clean boreholes.
Eno Scientific Non contact sonic water level sensors for every monitoring application, portable or permanent, utilizing adaptive low frequency sound waves.
Hydro Terra - Environmental Monitoring Specialists Environmental Monitoring Specialists, environmental monitoring equipment, field data collection, landfill monitoring, environmental monitoring solutions, sell environmental monitoring equipment, environmental monitoring equipment hire, water management monitoring, groundwater monitoring technology, HydroTerra, DataStream, environmental data management platform, groundwater sampling technicians.


Groundwater Monitoring on YouTube
Measuring Static Head pressure for bore
SENSEI automated groundwater monitoring
Groundwater Level Basics

Groundwater Monitoring on Amazon
Practical Handbook of Environmental Site Characterization and Ground-Water Monitoring

Groundwater Monitoring on AliExpress
100 Meter Groundwater Monitoring Instruments DC 24V Well Water Level Sensor 4-20mA

Groundwater monitoring on Buzz Sumo
A global overview of quantitative groundwater monitoring networks
Developing an effective participatory groundwater monitoring program at village level


Cloud Computing and Radio Communications for Groundwater Monitoring
Amazon Web Services - IoT Core for LoRaWAN Cloud computing for LoRaWAN wireless network. 10km range.
Amazon Web Services Internet of Things Guide
Amazon Web Services IoT Partner Device Catalog
NBN Satellite Internet using Solar

Groundwater Monitoring Conclusion
The hardware exists for real-time monitoring of groundwater bores.
Cloud computing can collect groundwater data at scale.
Queensland Government is accepting bore user data for collection and distribution.
LoRaWAN can transmit bore water data up to 10 kilometres.
Satellite Internet can be used in remote regions to relay bore water data back to global data centres.


Real-time Groundwater Monitoring needs to scale up to get better data across the water table.
Benefits:
Manage the available water supply responsibly.
Know how the water table will work in times of drought and floods.
Plan ahead so we do not run out of water.