Remarketing FAQ Answers - Build Audience Trust and Engagement
26 Remarketing Frequently Asked Questions answered for you.
Remarketing FAQ Question Links - Click question to go to answer.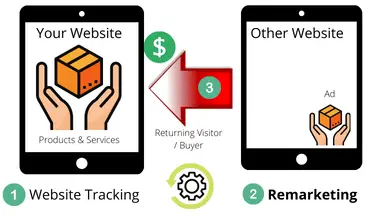 Can Facebook remarketing improve ROI?
How can I retarget using sites without pixel?
How can you increase conversions from Google Ads?
How do I create a Facebook remarketing campaign?
How do I create effective remarketing ads?
How do I set-up a video remarketing advertisement?
How do I show remarketing ads to a user?
How do I target my audience on Google ads?
How do you create a dynamic remarketing campaign?
How do you set up a remarketing campaign in Google Ads?
How does retargeting work on the Facebook ad network?
How much site traffic is needed to make retargeting effective?
What are different ways to boost sales with Google AdWords?
What does the Google Ads word "remarketing" mean?
What are the benefits of remarketing on Facebook?
What is a 'retargeting audience' in internet marketing?
What is a targeted retargeting strategy?
What is Facebook pixel tracking?
What is onsite retargeting and how can it help my business?
What is retargeting?
What is remarketing in Google Adwords?
What types of remarketing are there?
Why are remarketing ads important for businesses?
Why do retargeting ads work?
Why is Remarketing extremely important for a Business?
Why is remarketing important?

Remarketing Introduction
Remarketing is a form of marketing that allows you to reach your customers again after they have left your website.
In this FAQ web page, we'll answer some common questions about remarketing and what it can do for your business.