Business Case Examples with Australian NBN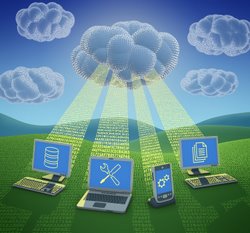 What are the NBN business advantages?
Greatly improved Internet speed which presents new business opportunities
Improve business start up and adapting time
Reduce capital costs in business
Allow business to operate from multiple locations easily
NBN Business Technology Improvement Examples
Telecommunications
The NBN allows for business to rewrite their communications plans. VOIP telephony allows for PABX equipment to be remote or outsourced for multiple locations. Computers can operate as business phone extensions complete with video conferencing anywhere where a good Internet connection is present. NBN has the speed to handle 100s of simultaneous phone calls across the Internet. Save on telephony line rentals and VOIP to VOIP calls are often free.
Remote Thin Client Computing
Thin client computing allows for clients to have a full computer experience hosted at a remote location. The client can use a thin client or a computer to access the main computer centre. All the data is only held at the data centre. NBN can allow over 100 simultaneous thin clients sessions. NBN speed allows for large branch offices or large serviced offices to be set up easily. Thin clients do not have upgrade cycles like desktops and laptops. Thin client devices usually use less than 15 watts of electricity. Remote offices can access remote talent pools, reduce commuting times, parking fees and inner city business costs.
Video Uses in business
NBN allows for multiple video feeds simultaneously. This could be used for up to 10 site video conferencing, training videos, video recording meetings, video content on local web servers and video editing for remote clients. Video conferencing can include white board sharing, VOIP audio, text chat, sharing documents, sharing video clips and recording session. Reduce travel needs for distributed group meetings. Play back meetings for those that could not attend in real time. Conduct business with remote clients using video conferencing. Clients save time by avoiding travel time and parking fees. Business can expand its geographical reach using video conferencing.
Cloud Computing and SAAS
Cloud computing and SAAS can allow quick setup of server and desktop like applications hosted remotely. This can avoid local server costs, licensing costs, server cooling costs and server room costs. Having desktop applications in the cloud allows for access by thin clients, desktops, laptops, tablets or smart-phones. Email hosting, website, documents, calendar sharing for up to 50 people can be acquired for free. E.g. Google Apps. Advanced applications includes video hosting, virtual group sharing, very large email boxes with archiving and encryption. Any device with a browser connected to the Internet can access these cloud features. NBN provides great two way communication speed with the Internet to allow more cloud computing options and save on business capital.
Software as a Service (SAAS) provides advanced applications from the Internet with users paying a subscription fee. Applications such as Customer Relationship Management, online accounting, project management, business workflows and invoicing. Application usage can be adapted to business needs quickly. You only need to pay for what you use unlike conventional user licences.
Australian NBN Business Case Examples
The NBN provides enough speed to have local servers provide content and services to the world.
Local full service website hosting - keyword analysis, content creation and search engine optimisation. Make Aussie websites work harder.
Online audio broadcasting - Join the thousands of online broadcasters. Create audio playlists for specialists clients.
Online publishing - Subscription to content. Newspapers and magazines are already beginning.
Online education providers - Teachers and students can be distributed group. LAMS is a open source software framwork for educators.
Video creation and editing services with global clients. Australia edits movie content for the USA during their night time.
Custom complex Internet interaction creators - Beyond standard e-commerce and static content.
Small scale data center using virtual machines - Charge for hosting virtual servers. Offer onsite backup and disaster recovery services.
Local telecommunications provider - Combine multiple businesses telephony requirements with 1 VOIP PABX.
Data migration specialists - Help business access cloud application and save on business capital costs
Network upgrade technicians - NBN provides Gigabit Ethernet. Your network may need to adapt to use the high speed.
Internet dependant careers would prefer to work with NBN speeds to improve efficiency. E.g. Web publishers, web developers
Software developers for smart-phones, tablets and cloud applications. Market to the world.
Do you need help with implementing these business cases?
See Qld Govt ICT Industry Directory

Use the NBN to your advantage.