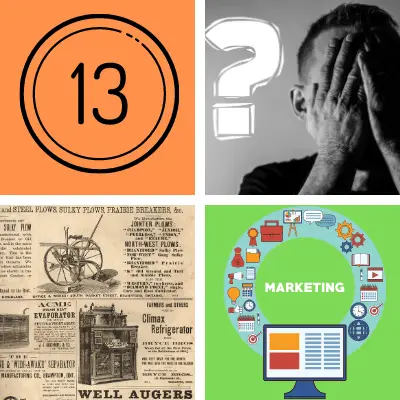 If you're a small business who is sincere about wanting to avoiding marketing mistakes, then pay careful attention to this list of mistakes.

The Big Idea Behind These 13 Mistakes Is: Marketing Modernisation.

This is all about the facts of traditional versus modern marketing.

Fact: Identify where marketing can be updated.

Business owners can't neglect this list because of where marketing and business can be improved.

Mistake # 1 - Customer Awareness
TV, Radio and Newspapers have high costs, no targeting and no tracking.
Search ads, Display ads and Video ads can have ideal customer targeting.
Digital advertising has measurable success in terms of sales conversion.
Website visitors can be re-targeted for future engagement.

Mistake # 2 - Customer Searching
Traditional marketing used Yellow Pages ads at high expense.
Customer Digital Search can arrive at your website for free.
Customer Digital Search can also lead to your Google My Business (Google Map) for free.

Mistake # 3 - Written Communications
Direct response mailing has printing and postage costs.
Promotional materials direct to suburbs has printing and delivery costs.
Email communications can scale globally almost for free.

Mistake # 4 - Initial Interaction
Coupons, Store Sales, Free Samples can be used to attract customer with some costs.
Online Interest can get a free eBook, mini course, videos 24/7 for their email.
Digital products can be delivered almost for free and build trust.

Mistake # 5 - First Contact
Traditional Marketing can use a flyer, brochure, catalogue.
Digital marketing can use PDF download or eCommerce website.
Collecting email for Lead Magnet allows for future communications.

Mistake # 6 - Product Demonstration
Trade-shows have setup costs and attendance limitations.
Demonstrations as a Video Sales Letter can operate 24/7.
Digital Marketing can be used to send your ideal customer to see the demo video.

Mistake # 7 - Product Sales
In store sales requires customers to travel to you.
Ecommerce sales can be national or global.
Ecommerce can accept sales 24/7.

Mistake # 8 - Group Events
Live physical event requires room hire and physical attendance.
Webinar attendance can be digital and global.
Recorded webinars can be used continuously.

Mistake # 9 - Outbound Telephony
Cold calling prospects can be seen as a disruption.
24/7 Customer scheduling calls on your available hours calendar is more convenient.
Scheduled calls can be free or paid.

Mistake # 10 - High Ticket Inbound Telephony
After an event you can gain many telephone call enquiries (low conversion).
After an event application form can self select your clients (high conversion).

Mistake # 11 - Customer Meetings
Face to face meetings requires travel time costs.
Video conferencing can be setup with calendar appointment.
Reach global stakeholders and customers.

Mistake # 12 - Customer List
Clients can be maintained with a Rolodex and manual contact.
Email lists can be send sequenced and broadcast emails.
Email lists can scale up to millions and take the same time to write an email.

Mistake # 13 - Follow Up Nurturing
Client phone calls take time at scale.
Posted newsletters have printing and postage costs.
Email sequences can be used for new client on-boarding for education and trust.
Email newsletters can be send as often as you like almost for free.


My advice at this point is to review which marketing mistakes can be corrected.
Did this get you excited?
Well, if you're a small business who wants to avoiding marketing mistakes, check out this checklist at:
Business Marketing Opportunities Checklist - Claim your copy right now!