44 Business Problems and Solutions FAQ
Avoid Mistakes. Action your goal quickly.
Your Critical Business Problem Questions Answered
Business Problems and Solutions FAQ Question Links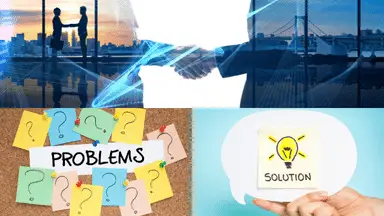 Can a profitable business have cash flow problems?
Does social media marketing really work?
Entrepreneurship: What are problems a business can solve?
How can business analysis help improve any business?
How can cash flow problems lead to a business failure?
How do I find a business problem in my society?
How do I make a good business model canvas?
How do you create a business model for startup business?
How do you market on social media platforms?
How do you measure small business cash flow?
How does globalization expand businesses?
How important is a company culture to its success?
How is social media changing the business of branding?
What are business problems that need to be solved?
What are challenges for small to medium businesses today?
What are internal and external issues for a company?
What are some interesting business models?
What are some problems in recruiting in small businesses?
What are some problems that a startup can solve?
What are some ways to start a business?
What are strategic issues in business?
What are the best businesses for entrepreneurs?
What are the challenges in strategy formulation?
What are the major problems in business today?
What are the problems of a digital business?
What are the signs of a healthy company culture?
What are various challenges management faces?
What is a good business plan?
What is strategic business management?
What is the biggest challenge for starting a new business?
What is the biggest threat to the global economy?
What is the common problem for an entrepreneur?
What is the most common problem business owners face?
What is the purpose of strategy?
What makes a company's culture toxic?
What makes a good business strategy?
What major IT challenges do small businesses face?
What problems do businesses have with their websites?
What problems do most entrepreneurs face today?
What should everyone know about the Business Model Canvas?
What struggles are small businesses having with social media?
Which problems do small businesses have?
Why do business models matter so much?
Why should small businesses do social media?

Business Problems and Solutions Questions and Answers
Cash flow problems can occur when expenses exceed revenue. This usually means that you're not earning as much as you need to cover your commitments, such as paying for materials and labour, interest expenses and taxes… the list goes on. When times are tough and you realise that cash is short – it's best to be prepared!
Businesses should consider implementing a cash reserve by setting aside part of its profits in savings account(s) maintained by a bank. This also helps provide an early warning system against any emerging issues. Payment terms for customers should always be set out at the time of purchase; failing to secure this kind of agreement leaves open the possibility that invoices might mount up if buyers don't pay on time. Finally, cash flow management should definitely be a priority for any business owner - it's a real pain if cash isn't flowing through your company at a steady pace!

For marketing and advertising purposes, yes. Social media is a digital marketing channel with the power to help customers connect with brands in an intimate and meaningful way. It can be one of the most popular methods for marketers to generate customer acquisition costs (CAC) at a level that's lower than other channels. There are 3 notable ways social media is used for this purpose:
1) expanding brand awareness through organic or paid content
2) reaching target audiences, which includes both prospective customers and current clients
3) qualifying prospects through lead capture forms before they interact with your company's direct prospecting efforts
Organic content provides a quick burst in followers/likes/shares which can increase traffic to sites or conversion rates on offers.
Entrepreneurship is the process of designing, launching and running a new business. It can involve strategies to find or create a need that people will pay for.
Many problems can be solved with entrepreneurial efforts such as building infrastructure, solving world development issues, providing meaningful work for underemployed populations and so on. Entrepreneurs often identify unmet needs and develop innovative solutions which meet those unmet needs efficiently - satisfying it with great value at an affordable price. Be enterprising!

The goal of business analysis is to help improve any business by resolving challenges and increasing efficiency. To do so, the analysts answer questions such as "What does the company need?" and "How can we meet those needs?" By understanding business requirements and process improvements, they identify solutions for these problems--the process analyst's job.
Business analytics has grown in popularity as a form of revenue stream for companies because it creates value through increased efficiency and problem identification--a kind of money-saving hack. This data analytic activity helps to set strategy or show trends that would otherwise go undetected without this type of involvement on behalf of decision makers. The data collection itself is only the beginning of the process. The data must then be analysed and interpreted before it can be presented in a way that clearly shows both trends and actions to take. Business analysts are responsible for data collection , data analysis, data interpretation and data presentation.

A lack of cash is one of the leading causes of small business failures. To avoid potentially devastating financial setbacks, it's important that you not only look at your overall profitability but also your cash flow. What assets are you reliant on if things go badly? Cash flow is the difference between the inflow and outflow of cash in a company. When companies have access to more capital coming in than they are paying out, then there will be an excess of funds which can be used for expansion or emergencies or loans, etc. Realistically though it does not always turn out this way for many companies because often times what businesses do expect when they borrow money is monthly payments based on monthly revenue, but if these two don't meet each other's expectations then that's when the cash flow problems begin.

Finding a social problem is an important part of being a social entrepreneur - people with skills, vision and drive to develop ways of making our society better. Often there are problems that can be solved with a business or new idea. If you feel passionate about this idea, your first step should be to determine what the problem is from your community's perspective. Then you will need to research the history of the issue and see whether anyone has attempted similar solutions in other communities or countries. You might also want to take into account how complex it may be. For example, poor nutrition can not only lead to stunted growth but more expensive healthcare costs besides its contribution towards climate change through greenhouse gas emissions from overused land for food production due to population growth, deforestation and pollution from fertilizers.

To make a good business model you need to first take into consideration the product or service. What does it do? What are its specifications? Standard, Specialty, Premium... They all have different levels of prices and benefits related to them. Price can also change based on how much you order at one time so that's something to consider as well.
Different customer segments want different things out of your product or service so looking at who these segments are is important because if they're not willing to buy your products then there's no point in selling them anything. For example, doctors probably don't want the same things out of their thermometer that construction workers do. Understanding customer needs will help you decide what features and price points should be available for which segments.
Revenue is another important part of product development because that's how you get money. Revenue can come from product sales, services, or a combination of both. You need to consider who your product is going to be sold too and at what price point. Once you have the answers to these questions it'll be easier to form an idea of how much product is going to be brought in and what the price per product will be.

The first step to developing a business model is understanding what the markets need. This could be anything from an online tool or offline service. You'll want to think about what your product or service offers, how it will fit into the market, and who your target customers are. Once you have answers for these questions, you can start crafting a business model with numbers and figure out how best to make money (percentages of sales, licenses) and understand potential risks.

The best way to market on social media platforms is by targeting a specific audience with content aimed at their interests. To drive traffic, start by posting content that targets a niche or specific niche. From there, depending on your niche and the size of the community you want to bring traffic too, determine how active you needn't be in order for your content to reach your target group (a general marketing campaign might post more often than someone who is trying to not saturate an already existing conversation) and send out posts accordingly.
Half of the battle with marketing on social media will be staying up-to-date with what's popular or relevant within that particular community; therefore marketers should spend time using these platforms as normal members.

First, you need to understand what your operating cash flow is. Operating cash flow is calculated as follows:
Total revenue – Total operating cost = Operating Cash Flow
* The difference between Gross Profit and Net Income can be explained as this: if a company has $1 million in sales and $500,000 in net income, the gross profit would be $500,000 dollars. As it takes time for a company to turn over inventory and generate gross profit from the sale of goods or services (see Inventory Turnover Ratio), we need to wait until accounts receivables are collected before we calculate net income because otherwise we would deduct all expenses (costs) but not count any revenues yet. Ideally, this ratio should be high - a 90 day receivable period for example - which means that it takes 90 days to collect what you are owed from the sale of products or services.

Globalization expands businesses by opening up markets across the world. With greater access to new markets, and with an ability to export goods and services with less cost in terms of shipping and handling, globalization is helping business owners connect with customers around the world in ways that would not have been possible without globalization happening first.
The internet has opened doors for entrepreneurs to operate their businesses on a global scale. The idea of "local" is becoming increasingly irrelevant when it comes to running a business because cyberspace transcends all geographic location boundaries. That means entrepreneurs only need one computer hooked up to the web when they can reach millions of potential customers through email or social media marketing campaigns - something unheard of during pre-globalization times.

The "happiest" companies typically have engaged employees who are engaged in their workplace culture and company success. Workplace culture is what you see when you visit a company on a tour or while applying to work there - it includes the pictures on the walls, the posters on the doors, how people interact with each other, and so much more. Working environment improves how people operate while at their office, but business success means different things for every type of company. Some companies want to increase revenue year-over-year or conversely lower costs by reducing operating expenses year over year. One common driver of long-term business success is customer satisfaction/loyalty - no matter what your operating objective might be, you need satisfied customers who will continue to use your product.
When you look at strong company cultures, many times strong workplace culture is also strong because there are strong interests in strong company culture . For example, if a small start-up has only 10 employees who each have very strong beliefs in their mission statement and goal of what they want the company to achieve , strong company culture will be strong. If a large multi-national corporation has a strong mission statement, strong workplace culture can still develop if employees are able to embrace it. Employees want to be part of something bigger than themselves, and strong company cultures give them that opportunity - either by being intrinsically driven or based on their shared interests.

The foundation of any successful social media marketing campaign is created content. Think about it like this: would you rather watch a TV commercial or an informative YouTube video? You have to give people enough information to keep them engaged, in order for your product or service to be the one they choose.
There are many different approaches when it comes to creating content that's effective in engaging audiences on social media. Some popular methods include humorous advertisements with videos, contests, interactive games and polls, sharing photos of happy moments with captions telling viewers how the product helped them reach their goals, etc. Social Media is turning into full-time job if you take advantage of it correctly - so be sure not to neglect putting in the time!

There are many business problems that need to be solved in today's marketplace. Some of the primary areas these business-related problems exist in include a variety of industries such as telecommunications, software development, and manufacturing. If you feel like you have a solid idea for a solution to one these problems - whether it is in the manufacturing industry or any other kind of industry - then consider starting your own company with that idea. That way, not only will you be able to make money off your own idea but you will also help out your fellow world citizens who are dealing with this problem at their end too - which is never a bad thing!

One of the biggest challenges for all businesses, regardless of size, is competition. With the advent of the internet and ecommerce, it's easier than ever to have a presence online that can compete with larger companies in business or many other sectors. It might be difficult to manage one store locally but convincing an entire country to buy your products online is just as easy.
Attracting customers who are devoted themselves can also be tough; loyalty will never disappear completely but if people are only willing to invest in you today because they want special discounts rather than because your company means something important to them, then you will find yourself less successful tomorrow when quicker turnaround shops come out with cheaper prices (perhaps worse qualities too).
Bringing attention back through internet marketing can be key because it ensures that you are actually offering something of interest to people instead of just building up the appearance of popularity through numbers.
Once attention has returned, one must keep it. Social media is a great way for businesses to guarantee themselves exposure because these platforms are both easy to grasp and addicting for users. Facebook, Twitter , YouTube, and so on are all great ways to spread the word about any company's offerings.
If companies aren't attracting customers through marketing or keeping them interested, however, then it might be time for a change in the type of product they're putting out. Sales numbers over time will show what is working and what should be axed-it might be time to kill some of your darlings, so to speak.

Every enterprise will have its own unique set of strengths, weaknesses, environmental factors, and internal processes. The important takeaway point is that change begins internally--either the company recognizes its existing problems or potential problem areas, or employees pay enough attention to their surroundings to recognize what needs fixing. Responsible business practices then come into place by taking these concerns seriously because they go hand-in-hand with long term growth. For example, if an enterprise understands the tendency of its organization for risk aversion, it will create an investment plan where "long" investments are balanced with "short" investments. Otherwise only one type of investment would be made which leaves the company vulnerable to fluctuations in markets.

There is a range of business models to consider. One recent trend that has seen an insurgence with companies like Uber and Airbnb is the "sharing economy". A typical example of this model involves people providing access to products, such as their home or car, for payment via the internet. Renting out property such as one's house instead of selling it can work for those who need extra income without having to take on formal employment.
The Subscription model also appears increasingly popular in consumer goods with things like Netflix and Spotify offering monthly subscriptions for rental/streaming services.

If the company only offers what you would consider entry level positions then it is difficult to find employees that can grow into leadership roles.
It's more challenging to find and hire the top talent when there are not many jobs opening up because you're competing with everyone else trying to fill an opening for just one person. It goes back to what we were talking about with culture fit - You need a team of likeminded people who care about the same things and work well in teams in order for your company to really excel, which you can't get if talent is lacking in any area.

A startup can solve any number of problems. As a first step, identifying the problem or pain point is an important first step to determine whether there's enough justification for investing in the business idea further. Joining existing solutions on the market may be simpler than coming up with an entirely new solution, but if there are no good solutions for that niche, then it might just need to be addressed by building out some creative face-saving ideas.
Creative business planning requires more work on behalf of the entrepreneur, but ultimately yields far better results because of its potential to go above and beyond conventional best practices.

Product or service type is most important when starting a business. Service businesses are more common and include medical practices, accountants, schools, nonprofits etc. A product based company needs to produce something that customer desire such as food or sports equipment. What kind of product do you plan on selling?
Potential customers: Who would be likely to purchase your item? Where can they be located? Define the niche market in which you plan on operating in order to support your idea.
Online Business: Starting an online business requires less overhead than a brick and mortar store with $100-$1000 depending on what you need for either the design process (assuming you'll develop your own site) or web hosting.

Strategic issues are those that have both long-term and short-term consequences for the organization. They pertain to the future of business, not just right now or in recent history.
Focusing on strategic initiatives is a good way to meet the challenges of change by determining potential opportunities related to major macro issues affecting society as well as major industry trends—such as globalization, deregulation, digitization, shareholder activism—that may be demanding changes in organizational strategy or leadership methods.

Define precisely what your interest is in or what problem you want to solve. Ask yourself whether the idea has enough traction and support so it can become a sustainable, profitable venture. It's worth asking if all the business skills required will be available in-house or if consulting would be better. Involve friends and ask them for feedback on feasibility and urge them to be candid with suggestions for improvement, too. If this sounds like a lot of work, remember that it's never too late to start! Start small and build up from there with each new success :)

Strategy formulation is the process of deciding on an objective and creating a plan to reach that objective. There are four phases in the strategic planning process:
1) need analysis;
2) designing a strategy;
3) executing the strategy; and
4) evaluating performance.
Once you've created your objectives, it would be useful for you to do some research on previous cases and/or ask others who've done this before what they found most difficult about implementing their strategies.
Some people find analysing their resources (money, time, equipment, staff etc.) particularly challenging because business plans require them to carefully allocate scarce resources among various goals or competing projects. Understanding all aspects of what will drive your success.

There are a number of problems in running a business today, both major and minor. Some challenges include staying afloat during tough financial times, having enough cash on hand to make payroll and pay the bills, sticking to a strict budget without going into debt more than you're comfortable with. Losing employees can be challenging too if you're not properly equipped for it. Things like these strain your ability to stay profitable and may require courses of action such as changing pricing or retaining part-time staff instead of full time staff.

The most common problems in a digital business are lack of customer data, a lack of transparency in what customers want, and a lack of quality information needed for decision making.
A company's digital transformation process will not succeed if it is based simply on following trends or putting out new products without understanding the need to do so from customers' point of view, meaning that the customer comes first. A comprehensive analysis should happen before any decisions are made about marketing campaigns or changes to products or services.
This also means that companies must have the right technology to track customer data and have transparency into their clients needs.

One of the most obvious signs of a healthy company culture is if employees are happy, feel appreciated, and want to help their employer succeed. A groundswell of support strengthens the organization's ability to confront challenges or climb obstacles. This leads to better business results.
A company culture which thrives off personal responsibility, caring about the work they produce, and respecting others will foster a workplace environment where people can excel in what they do best by investing their time with purposeful intentionality. On one hand this might mean giving more but on the other hand it also means setting limits with others when necessary for mutual respect in conflict resolution. Leaders who care about everyone from customer service reps to warehouse workers can create a positive company culture that makes others want to work harder for them. They will learn more about the complexities of teamwork and how it differs from workplace environments where everyone has their own goals or agendas.

The challenges managers face are handled differently depending on the size and structure of the company. For example, some companies have had problems with time management as it is hard for people to coordinate their schedules as they work remotely. Performance problems can also be more difficult to address since employees may not know what you want them to do differently or how they can improve performance without being told explicitly. You may need to start by looking at your own actions and actions of other managers and rearranging expectations at different levels.

A good business plan has three key components.
The first is to understand the basics of management, marketing, leadership skills and understanding the market.
The second component of a sound business plan is financial projections; make sure you take into account all variables like your startup cost, number of projects undertaken simultaneously, opportunities for growth and the like.
Finally these two should be intelligently woven together with an overall summary that showcases what you will do to separate yourself from competitors in addition to why people should buy or use your products or services.

Strategic business management is the process of planning an organization's goals to help it compete successfully in the marketplace. This process may be systematic and complicated, but most phases of this process can be broken up into a few component parts.
Some key aspects of strategic business management include defining your company's strengths and its weaknesses; developing a plan based on these strengths and weaknesses; formulating action plans to achieve these goals; and allocating resources accordingly. Along with determining what constructs will make your organization successful, you must identify how you will measure success (e.g., profits). You also need to perform market research before undertaking any projects or reorganizations that may require more time or capital than available cash reserves allow.

The biggest challenge for starting a new business is that you've got to have cash on hand and be willing to spend it on upfront costs before your first sale. It can be difficult convincing people there's enough of a demand for what you're making, but those products will never find their way onto the shelves if you haven't fronted the money to buy inventory.
Running a business also poses challenges such as ensuring good cash flow within your company-- not only by minimizing interest-bearing debt and managing outgoing funds more effectively than incoming funds, but also by figuring out how much bank support your business needs in order to run successfully.

Economically, major events like a coronavirus outbreak (#Covid19), extreme weather such as hurricanes and floods (#ClimateChange), and an economic recession. Economists, including the World Bank and IMF, agree that these are the three biggest threats to the economy globally. These disasters can severely damage not only individual countries but also other countries in regions where they occur because of trade partnerships.

Entrepreneurs often struggle with one or more of three things; finances, infrastructure, and marketing. However, some risk takers will use their own expertise to create what they need. It helps to be honest about any skills that are lacking and then look for partners you can work with to accomplish this goal. Thinking outside the box is helpful too if you haven't done it before!
The best way to solve these problems is by laying out a blueprint for your business's future so you don't get lost in the shuffle while also making sure nothing falls through the cracks.

1. Cash flow- the steady stream of money coming into a business can halt as quickly as it starts depending on how many customers you have and what they do with their funds.
2. Work life balance- if you're short on hours, you might start feeling like your work is taking over your life instead of the other way around! And this problem is exacerbated if your family and friends rely on you for childcare, ride sharing, errand running and more. It's worth considering hiring someone to come in and help take care of some things that we all naturally think only we can do!
3. Finding customers- this one might feel obvious but it isn't always easy--in fact, most planners will tell you that half of the biggest problems business owners face is finding customers they can rely on.

A strategy is a planned and coordinated course of action designed to achieve specific and desired objectives over a set time horizon.
A vision statement lays the foundation for strategic planning by concisely describing the general aim for an organization's strategy, such as becoming the preferred provider in its field with superior customer outcomes.
Strategic objectives articulate what factors will lead to success, such as revenue that exceeds one billion dollars or creating value exceeding 500 million dollars. Strategic planning consists of activities that result in an organizational plan for achieving these stated goals. These activities involve analysing the current situation and defining major steps necessary to achieve organizational objectives; establishing budgets, schedules, staffing levels and other resources required; identifying risks and opportunities affecting attainment of objectives; and monitoring progress towards attainment of objectives.

A company culture can become toxic if employees feel unsafe to voice concerns about the business, are frequently brushed off by managers, or are consistently disciplined for illnesses they developed on the job. Toxic cultures cause employee morale to dip and it's likely that turnover rates will also go up as people leave in search of environments that they consider more desirable.

A good business strategy is one that takes into account both the strengths and weaknesses of the company as well as its products and services, as well as what its long-term goals might be. A few examples of a company's strengths would be things like high-quality products, specialized knowledge or expertise needed to produce their product or service efficiently and effectively, etc. A few examples of a company's weaknesses might include small target market size, inability to compete within certain industries (i.e., high competition), little resources available for research and development, etc. Some considerations for what a business plans on going in the future could include making an aggressive move against competitors by introducing new innovations developed from advances in technology or scientifically driven discoveries.

Small businesses face a variety of IT challenges, but three major ones are ensuring their technology is compatible with the rest of the business, finding tools that can help them solve day-to-day problems and provide solutions for long-term needs, and determining pricing models. Tools for small businesses include options such as CRM systems, project management applications, bug tracking programs, customer satisfaction software to name a few. These make it easier to handle a small company's internal operations from one central location instead of trying to manage everything from many different places or switching between multiple systems. Considerations in pricing models often come down to cost vs risk - if you're using free alternatives which aren't compatible with your system then your risks will be lower, but it also means the client will be on their own to find a fix if something goes wrong or to research best practices.

Website visitors: Your site and business needs to meet the online expectations of your customers. The internet has certainly become a place where customers do their search too, so it's important you don't let potential customers down by having a website that is difficult to navigate, or isn't mobile-friendly. As people favour buying goods and services online as well as looking for information on the internet, you should optimize websites to be accessible from different devices such as desktop computers, tablets and smartphones.
Conversion rate: Your conversion rate is how frequently your potential customers are converting into paying clients or into those who opt-in for your newsletter after seeing your call to action on a webpage. For example, if out 100 prospects visit a page with an offer , but only 50 of them click on that offer, that website will have a 50% conversion rate.
Responsive design: Responsive website design is website design that adapts based on screen size. A website should be designed to provide an optimal viewing experience - easy reading and navigation with a minimum of resizing, scrolling, and zooming - across a wide range of devices from mobile phones to desktop computer monitors. This website design approach improves the website experience for visitors and enhances their interactions with your website.
Search results: Search Engine Optimization (SEO) is vital as it helps you show up more on search engines as well as being able to rank higher than those around you . This can be a difficult balance as website owners, website administrators and website designers all want the website to rank well without any negative consequences. You will need an individualised approach to your website with SEO consultancy in order for you to achieve the best possible results out of it.

The problems entrepreneurs face today can be summarized in five areas. The first two are business-oriented and the last three are personal development.
1. Cash flow management
2. Product or service line
3. Relationships with stakeholders
4. Work-life balance
5. Career development and employability skills

A business model captures the venture's unique value proposition and makes it explicit by explaining how it provides economic value to prospective customers. The canvas can be used to view and analyze similar companies, and understand why certain paths were taken in each case. The model is broken into nine blocks that represent different parts of a business, such as its key activities or customer segments. Different combinations of these nine blocks may work for different kinds of enterprises, but the intent is that they all should carry some meaning about how the company creates economic value (usually through delivering product or service).

Small businesses are faced with the challenge of finding the time to actively engage in social media between running their business, actually connecting with customers in person, and managing all content. Some business owners use social media just to promote their products and call it a day while others put out consistent posts on various networks. There are many pitfalls that come into play, such as over-sharing or over-posting that can drag down any marketing strategy. When struggling for consistency, enlisting help from employees or turning your Instagram feed into an automated billboard might be wise decisions. Considering the type of customer you want to attract is another way to go about making your marketing more profitable.

Small businesses have a lot of problems, from hiring the right people, to balancing work life and home life, to maintaining a customer base. The good news is that many small businesses are starting to recognize the value in online presence for marketing purposes. The internet has given small business owners a whole world of opportunity--and with good information on how best to use it--they can take their business from regional success to national success while still running it from the comfort of their own homes. In fact, many entrepreneurs find themselves financially better off by not taking on traditional jobs! The keys are all there waiting for you - you just need the courage and creativity to try them out.

Business models are the point of view adopted by an enterprise in defining its target customers, competitors, and partners. A successful business model provides ways to grow a profitable customer base and processes for evaluating this. There are many different types of businesses, but they all have one or more elements that define them as being fundamentally different from each other. Some key elements that define any business are how it does its marketing, handles preparing products or services for sale by customers (not just employees), creates the individualized needs of its customers, manages supply chains used to prepare inventory items and coordinate multiple vendor relationships in these supply chains.

Social media can provide a sense of connection and recognition to a business's customers, which can result in a stronger customer base. This is very important for the marketing strategies of any company. Furthermore, it may be easier to generate leads via social networking sites than it would be through advertising or other offline marketing outlets.