Let me tell you a quick story…
There I was, a operations manager trying to test online content.
The thing is, at the time I was knowing the unwritten rules of SEO.
The big problem was that online sales fails without good content. That meant online product had poor sales, which online income failing.
Then, as if by chance, something amazing happened...
I had a brainstorm about creating specific content can drive traffic to more sales !
Instantly it became crystal clear to me how to create content using customer keywords creates more traffic for sales, because I saw business could scale with content creation.
My plan was to start putting more content online before the buy button.
So I started creating a content cluster around my product topic. But we didn't stop there.
We then created resources and tools around my product topic.
After that, we leveraged keywords and copywriting for growth.
Building on that success, we decided to create systems using keywords and copywriting for other businesses.
We call it "The Accelerating Business Results System".
With The Accelerating Business Results System I can now reach over 1 million users each year!
And that's why I'm so excited to share this with you so you can get these types of results too!
Big Picture Strategy For Creating Business Sustainability And Growth Going Forward:
Main Goals
SWOT - Strengths, Weaknesses, Opportunities, Treats
Online Presence
Business Model
Ideal Customer Avatar
Existing Customer Segments
Customer Keywords
Marketing Plan
Customer Channels
Customer Journey To Purchase
Copywriting
Content Implementation
Main Goals
Thinking about definite business goals helps deliver those results
Compare actual business performance to the goals
List milestones to your goals
SWOT - Strengths, Weaknesses, Opportunities, Treats
Know your business strengths, weaknesses, opportunities and threats
Know what to include in your business strategy
Online Presence
Be seen in multiple platforms online
Become omnipresent to your customers
Business Model
Model your current business operations
Model your future scaling business operations
Ideal Customer Avatar
Define your ideal customer at a logical and emotional level
Use your avatar data in most future communication with your customers
Existing Customer Segments
Identify where your customers are coming from now
Should customer be split into more than one grouping
Tailor messaging for each customer segment for higher sales
Customer Keywords
Know the exact phrases your customers use including search volume
Create content to match your customer's language use to build trust, engagement and sales
Marketing Plan
Know your marketing from targeting, to sales, to referrals
Check to see you have the components for customer flow and scaling
Customer Channels
Identify how customer segments get to your business the first time
Consider more channels to get new customers to your business
Customer Journey To Purchase
Define the content needs at customer awareness, interest, consideration and evaluation
Work out the content needed at purchase including up sells, onboarding and customer support
Copywriting
Answer the precise questions needed to generate most of your copywriting including keywords
Gain approximately 24,000 words of custom sales copy based on your answers
15 types of sales copy
Content Implementation
Implement sales letters, sales video, product descriptions
Implement social media posts
Implement social media ads
Examples Of This Framework In Action:
Keyword rich content has been created to have over 250 top 3 Google search results
Optimised Online Presence has been used to keep business at full occupancy
Keywords in a website has generated maximum capacity of sales in USA, Australia and New Zealand
Conclusion / Final Thoughts:
Run your business using real time insights and data
Plan for business growth and then achieve it
Next Steps:
Options going forward:
Provide excuses and do nothing
Do It Yourself with guesswork, trial and error
Join The Accelerating Business Results System over 3 months and get your business development next step
Business Strategy Tips for Business Growth by Design
8 Simple Steps Every Business Owner Can Follow To Gain Business Transformational Success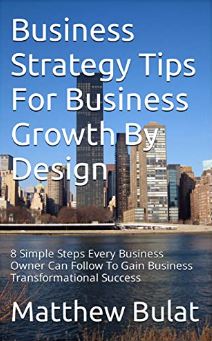 Available as Amazon Kindle or Paperback