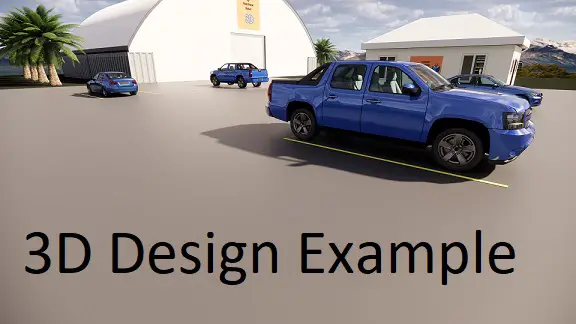 If you're a inventor who is genuinely interested in how to quicken invention commercialisation, then I've got a 3D design product development secret list here you need to learn about FAST if you want to avoid having to create a 3D design for customer testing, patent and manufacture.
The Bottom Line Of This 3D Design Product Development List Is:
Faster Invention Commercialisation
This list of secrets is all about the fact that 3D Design.
That means speeding up invention development.
This helps you because save time to get to commercialisation which means quicker return on investment.

Secret # 1 - 3D Designs Can Work At Any Scale
Large complex designs can be designed one component at a time
Assemble multiple building sized inventions digitally
Create designs for 3D printing at a smaller scale
Secret # 2 - 3D Designs Can Import Parts
Add common machinery, furniture, vegetation to your design quickly
Add people using your design quickly
Add landscape, sunlight, sky to your design quickly
Secret # 3 - Export 2D Plans
Export designs as 2D plans
Export design views as 2D images
2D designs can go into patents
2D designs can be easily shared for faster product development iteration
Secret # 4 - Export 2D Video
Create a walk through of your design
Add narration of how the invention is used
Include the video in the pitch to stakeholders
Secret # 5 - Export 3D Designs
3D designs can be converted into 3D printer files
3D designs can be used on smartphone virtual reality headsets
3D designs can be used on full VR headsets like Oculus Quest
Experience the invention before construction
You should definitely Consider where 3D design can speed up product development.
Need even more proof? Well, our New free 3D samples fixes all the "3D design product development" problems for every inventor who wants quicker invention commercialisation. Grab this amazing free 3D samples here: