Page 1 of 3
Cloud Computing Possibilities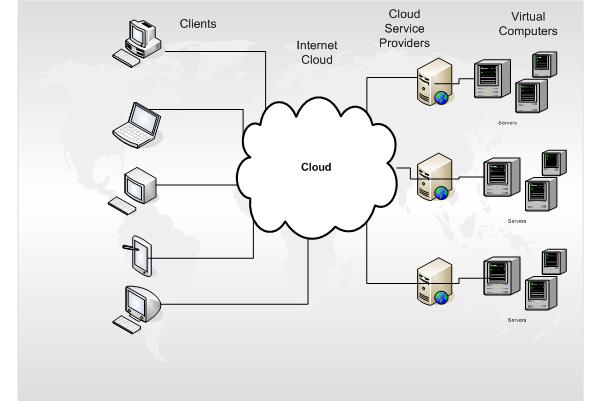 What is Cloud Computing?
Cloud computing can be described as a combination of virtualization servers providing scalable services, applications, storage and infrastructure for multiple clients over the Internet.
Where is Cloud Computing available now?
Microsoft Office Live Small Business
Microsoft Online Services
Amazon
Google Apps
Yahoo
Sales Force
Zoho
Virtual VOIP
Anti Virus on line backup provisions. E.g. Trend Micro and Norton.
What are Cloud Computing advantages?
Rapid deployment of services. Deployment in 1 day is possible. Quicker testing cycles.
Less money needed for on site hardware, administration and maintenance required.
Less capital expenditure
Scalable to handle variable business needs.
Access to large expensive hardware and services with little costs.
Electricity costs for local servers is saved in a cloud environment.  Virtual cloud servers save on electricity by sharing.
Disaster recovery from a local event. Easy to set up quickly in a new location.
Data access independent of location or device. E.g. Home, work or while traveling. Using a desktop, laptop, net book, smart phone or thin client.
Telephony can also now be hosted.
National Fibre Broadband will allow larger clouds.
Save about $1000/year in electricity and cooling for each server not deployed locally.
Storage costs are shared which can lower client level fees.
Lower data centre costs. Less space, cooling, UPS, generator requirements.
What are Cloud Computing disadvantages?
Monthly fees
Business data is stored off site.
What happens to your data if your provider goes out of business?
If the Internet is down locally then Cloud applications may be unavailable.
Encryption of data transmission and storage needs to be considered.
Training of programmers with cloud standards.
Intellectual Property stored off site.